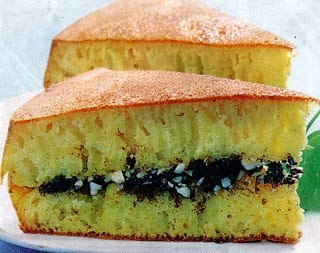 Martabak is a popular snack in Indonesia. In Jakarta and West Java, Indonesia, these sweet, thick pancakes are known as "martabak manis" ("sweet martabak"). Other Indonesians call the pancakes as "terang bulan" or "kue pinang bangka".
Usually made by street vendors in the evening, martabak manis are pan-cooked in a very large amount of shortening. A thin batter is poured into a specially shaped pan. After cooking, the pancake is ready to be topped: often with cheese, and/or shortening, and/or chocolate, and/or peanuts.
Serves 4-6
Ingredients:
2 tablespoons dry yeast
650 cc santan (coconut milk)
1 teas salt
500 gram plain flour
3 eggs
300 g sugar
1 teas baking soda
1 teas vanilla powder or essence
margarine
Sweetened condensed Milk
Chocolate Ceres
Crushed roasted peanuts
Method :
Mix the santan with the salt and heat on the stove until foamy but not quite yet boiling.
Add the yeast and mix well with the santan, leave to rest for about 15 minutes, until the yeast has dissolved add starts to dorm bubbles.
In a large bowl sift in the flour and beat together with the eggs.
Mix in the santan and yeast mixture little by little until the dough is smooth. Add the sugar, baking powder and the vanilla.
In a large omelet pan heat a little margarine. Make pancakes of approximately 1 cm thick on medium heat.
| | | |
| --- | --- | --- |
| | | |
| Martabak pans at the roadside stall | All bubbly and sugar sprinkled on top | Ready for the good stuff. |
When the pancakes start to form holes on the top sprinkle the ground peanuts sugar, condensed milk and chocolate rice/ceres.
Fold the pancake in half and take out the pan. Spread a little butter on the outside of the pancake.
Cut into squares to serve
This pancake is so rich in calories that it is a treat that should be enjoyed only rarely.
by Poonam Sagar