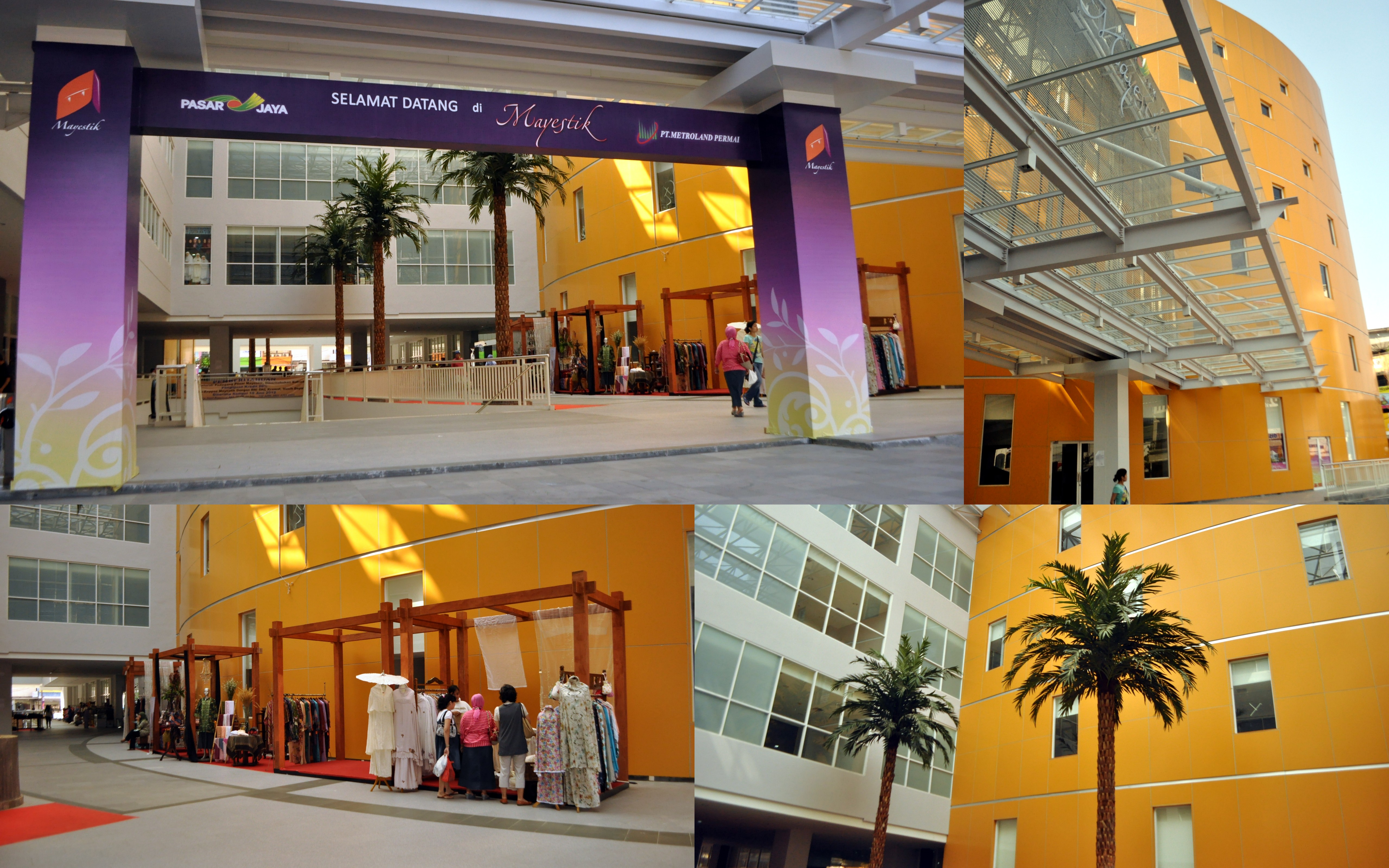 If you live in Jakarta, you must be familiar with Pasar Mayestik. Locate in Kebayoran Baru neighborhood of South Jakarta, this market offers good quality fabrics at reasonable prices. Many professional tailors are available in the market ready to fashion your fabrics into suit, dresses, office suit, even bed linen!
The place is a paradise to buy almost anything related to fabrics, costume making, crafting, and sewing supplies. You can find many kinds of buttons, zippers, ribbons, appliqués with many colors and textures! You name it and you can find it all here.
Pasar Mayestik was inaugurated by DKI Jakarta governor Fauzi Bowo on 16th June 2012. Now Pasar Mayestik complex has 10 floors, and each floor consists of different zones:
Basement floor: vegetables, ready-to-use spice, meat & poultry, bakery goods, food stalls, plastics, and household stuffs
Semi-basement floor: glassware, plastic ware, beauty products and tools, shoes, sandals, ready-to-use jamu (Indonesian traditional herbal drink), handicrafts
Ground floor: ready-to-wear clothes, textiles
Mezzanine floor: curtain kiosks, Batik, fabrics
1st floor: Jewellery
2nd floor: tailor kiosks, sequins, embroideries, advertising plaques
P1 floor: food court
P2 floor: marketing office
P3 floor: management office
P4 floor: mosque
It is the best alternative place to Tanah Abang for fabric shopping in Jakarta . The prices are quite similar but the place is less crowded and far less traffic jam than at Tanah Abang. Sometimes stuff at Tanah Abang maybe cheaper but the quality of some materials is better at Pasar Mayestik.
If you want to go for shopping at Pasar Mayestik, here are some tips you can follow:
Get there early
Some of the famous textile shops at Pasar Mayestik are Fancy, Mumbay, Bombay, La Moda, Iko Bana, Manizz, and de Majestic. These shops are usually crowded, so it is better if you go to these shops in the morning as the crowd is not too overwhelming.
If you want to make clothes but don't have idea what materials to use, you can ask the tailors at Pasar Mayestik to buy the fabrics. They will happily help you to find nice fabric you want to fashion.
Stay aware of your surroundings. Make sure that your money and belongings are safe, and your bags are always closed.
To avoid biggest crowds, avoid the weeks before Idul Fitri and Christmas.
Always be ready to bargain. If you buy several pieces of fabric from the same store, you can expect to get 10%-20% discount
Browse and browse until you find what you are looking for. Some of the stores are not very organized but you will be sure to find the treasure you have been seeking if you look past the apparent chaos.
To access Pasar Mayestik, you can use:
– Commuterline: Stop at Pasar Minggu Station, and then take Kopaja 614 Pasar Minggu-Cipulir route
– You can also take Transjakarta and stop at Blok M shelter.
Pasar Mayestik
Jalan Tebah 3, 1 Kebayoran Baru, South Jakarta
Phone 021-7252999
shopping guide prepared by Fauziah Listyo Ayunani