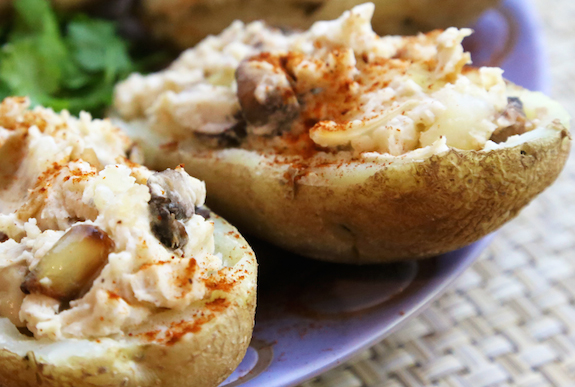 Who says stuffed vegetable recipes should have at least one type of meat in the filling? In fact, stuffed vegetables can be always vegetarian- and vegan- friendly menu for everybody!
For 4 servings or more
Ingredients:
4 large potatoes (e.g. russet potatoes)
225 grams baby bella or cremini mushrooms, cleaned and sliced
1/3 cup vegan cream cheese, or 1/3 cup pureed silken tofu with a dash of lemon juice
1 tablespoon olive oil
1 large onion, chopped
Paprika and chopped fresh parsley for garnish
Salt and freshly ground pepper to taste
Instructions:
Bake or microwave the potatoes until done but still firm; set aside to cool down. Cut each potato in half lengthwise. Carefully scoop out the inside of each potato half with a spoon, leaving a sturdy shell (around 1 cm thick all around). Place the scooped-out potato flesh into a mixing bowl.
Mash the scooped-out potato coarsely. Stir in the cream cheese.
Heat olive oil in a skillet. Sautee onion over medium heat until golden. Add mushroom and cover the skillet. Stir occasionally until they are done. Remove from the heat.
Combine the mushroom mixture with the mashed potato. Season with salt and pepper, stir well to combine.
Stuff the mixture into the potato shells. Heat as needed in the microwave or in a preheated 200 degree Celsius oven.
Garnish each potato with a little parsley and sprinkling of paprika. Serve immediately.
Other stuffed vegetable recipes here >>