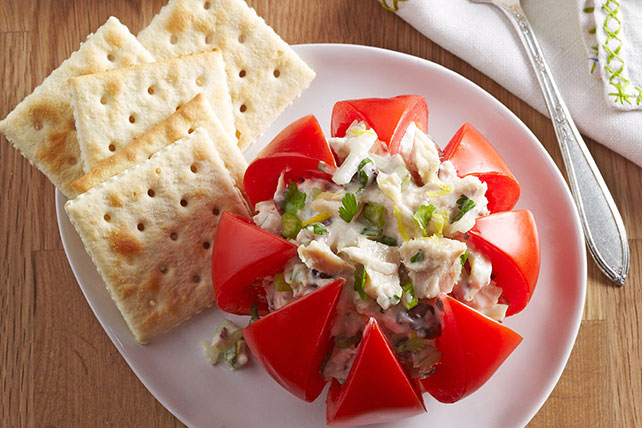 Looking for no-bake, no-grill, and no-cook stuffed vegetable recipe? You've landed on the right page. All you need are just the ingredients and only 15 minutes of your cooking time!
For 4 servings.
Ingredients:
4 large tomatoes
300 gram canned tuna in oil, drained
1/3 cup mayonnaise
1 stalk celery, finely chopped
¼ cup chopped black olives
2 tablespoon finely chopped red onions
2 tablespoon chopped fresh cilantro
Zest and juice from ½ lemons
Instructions:
In a bowl, combine all ingredients except tomatoes
Starting at top of tomato, partially cut each tomato into wedges. Be careful to not cut all the way through to bottom of tomato. Other option is by cutting the ¼ top part of tomato and scooping out the seeds, leaving only the firm skin.
Fill tomatoes with the tuna filling. Serve with saltine crackers.
Other stuffed vegetable recipes here >>