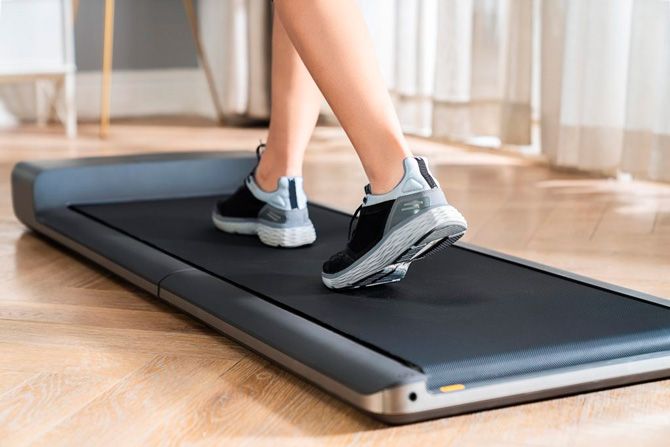 Walking is the simplest and most underrated form of exercise. Walking improves fitness, cardiac health, alleviates depression and fatigue, improves mood, creates less stress on joints and reduces pain, can prevent weight gain, reduce risk for cancer and chronic disease, improve endurance, circulation, and posture, and the list goes on
Come rain or shine and at any time of the day or night, walkingpads are the perfect way to walk in the comfort of your homes. Watch your favorite show on TV, listening to music, chatting on your phones at the same time.
The maximum speed on walkingpads is 6km/hr as these are only for walking, 0 gradient and supports upto a maximum of 100kg. They are different from treadmills as treadmills also have options for gradient, higher speeds and more weight.
Keep them on your bedside for easy access!
Here are our list of the top 3 walking pads along with its features:
Xiaomi Kingsmith Walking Pad R1 Pro Smart Treadmill Machine Foldable – TRR1F Pro (International Version)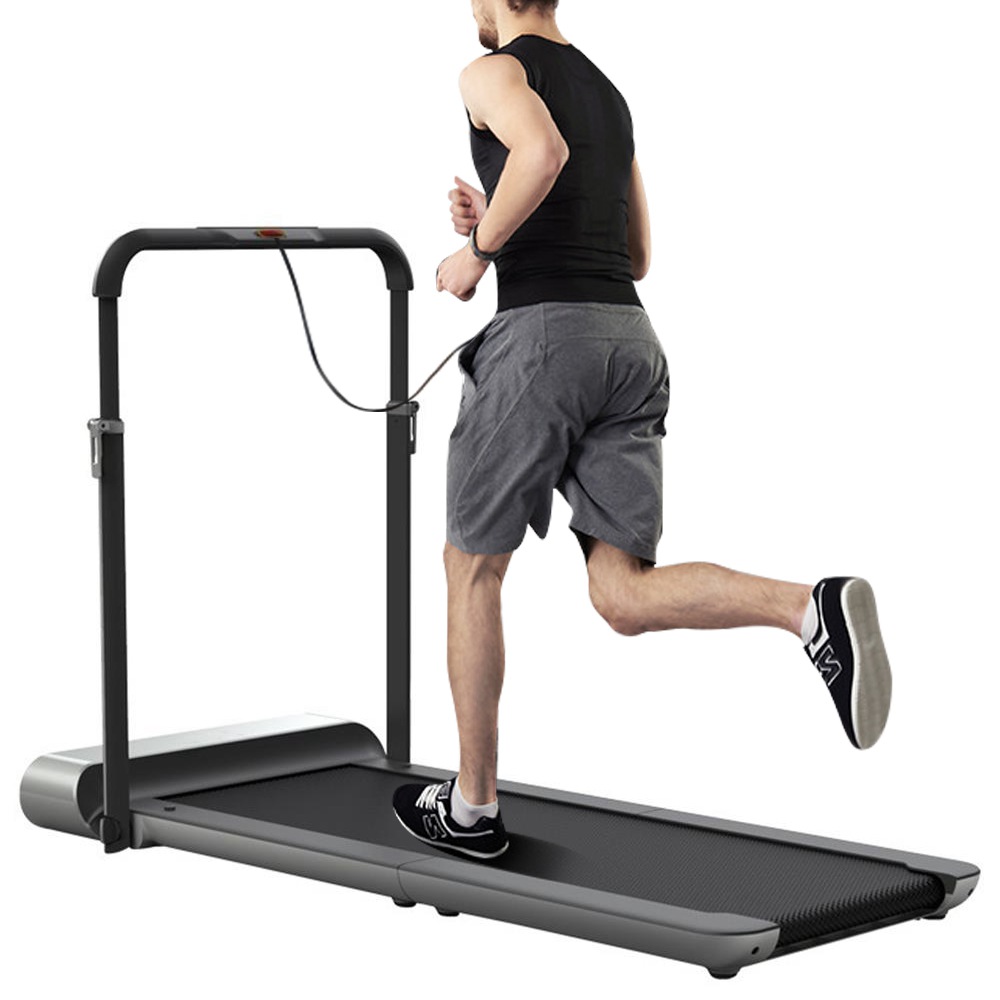 -Saves Space and Portable
This Xiaomi Walking pad has a very small size compared to treadmills in general. When folded, it only takes up about half a meter so it is perfect for those of you who live in apartments or houses that have limited space.
-Excellent Stability and Durability
The Xiaomi Walking pad is very stable and durable, with a load capacity of up to 100kg despite being very light and thin.
-2 in 1 Design
Xiaomi Walking pad R1 comes with a 2 in 1 design, which means two designs for use in this one product. For the first mode, you can attach the armrest to focus on speed. Meanwhile, for the relaxing mode, the armrest can be removed.
-Noise Reduction, No Disturbance
The Xiaomi Walking pad is very small in size. This makes the span between the treadmill machine and the floor very minimal, so it makes less noise. You will not disturb the activities of your family or neighbors when using this treadmill.
-Perfect for Joints, Safe to Use
Xiaomi Walking pad is designed so that you can exercise over a long period of time. With a multi-layer design, the joints in your feet do not get tired and sore quickly.
-Real Time Data Tracking
By using the Xiaomi Walking pad, you can get real time data so you can find out information about your exercise every day. You can also record the data that you have through the Walking pad App.
Xiaomi Urevo U1 WalkingPad Ultra Thin Smart LED Treadmill Machine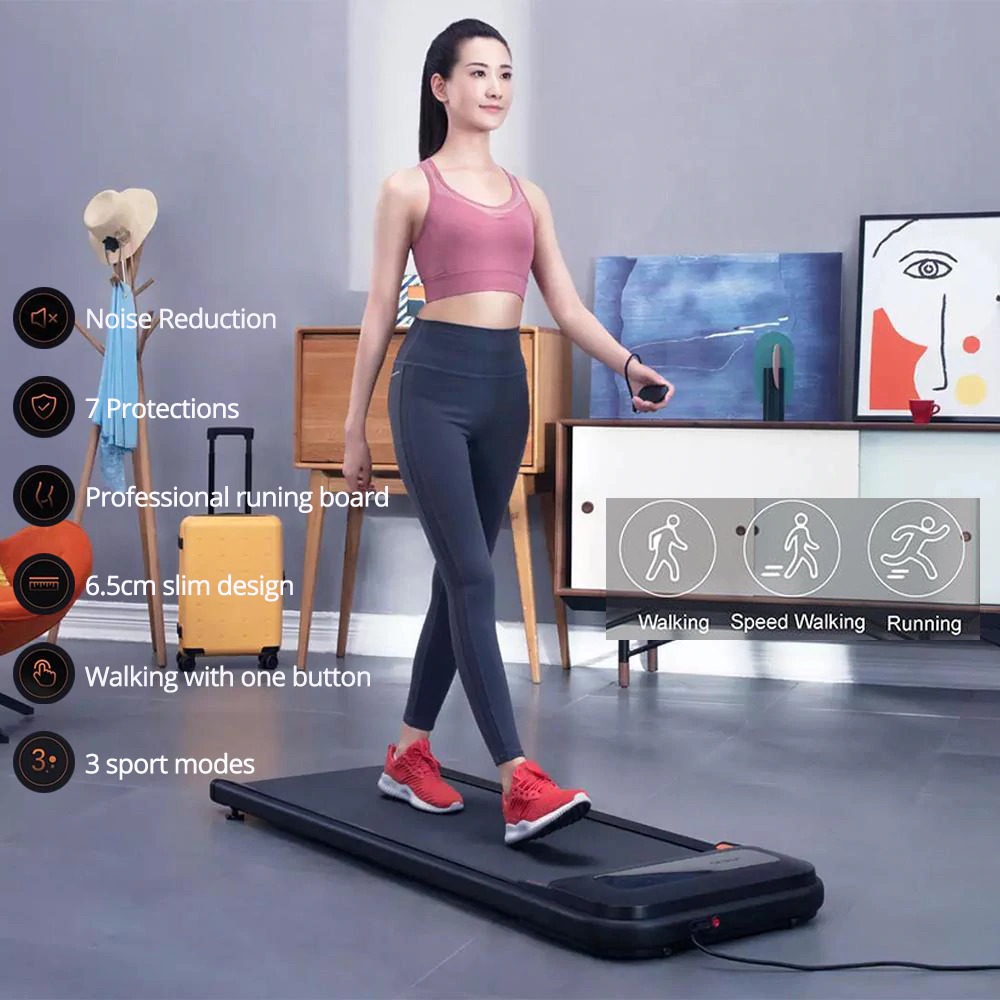 -Exercise Anything With 3 Different Modes
Xiaomi Walking pad Urevo U1 is suitable for you to have at home so you can exercise at any time and stay healthy without having to leave the house. There are 3 different modes from walking, brisk walking to running which are suitable to burn your daily calories.
-Innovative Design
Featuring innovative technology, the Walking pad from Xiaomi significantly reduces sound and vibration while in use so that it won't disturb others while exercising. It has a sound output of less than 62dB.
-7 Modes of Safety Protection
There are 7 security protections with this walkingpad, starting from No Load Protection, Anti Slip, Anti Deviation, Accident Insurance, Newbie Speed Limit, Warning Sign, Child Lock Protection so that ordinary people who want to use this tool will still feel safe.
– Comfortable On The Feet
This walkingpad has several layers with quality materials, so that you can walk more comfortably and stimulate you to keep moving so that you can continue your daily workout.
-Slim Design
The Xiaomi Urevo U1 uses a slim design so you can put this tool under your sofa or mattress after use without the hassle of folding after use.
-User-Friendly
The Urevo U1 is a user-friendly walking pad. You don't need to install to operate this tool. Everything works with just a click of a button.
-Professional Treadmill Motor
Similar to how you use a treadmill in the gym, the Xiaomi Urevo U1 also uses a Professional Treadmill motor that is strong and powerful but stable when used. You can run on this treadmill with a maximum speed of up to 6km / h.
-Remote Control
They provide a remote control where you can set the speed and mode you want to use.
-LED Screen
There is also an LED HD Display screen which will show data while you are exercising, so that you can reach your exercise goals.
Xiaomi Mijia WalkingPad A1 Pro Smart Treadmill Walking Machine Foldable – WPA1F PRO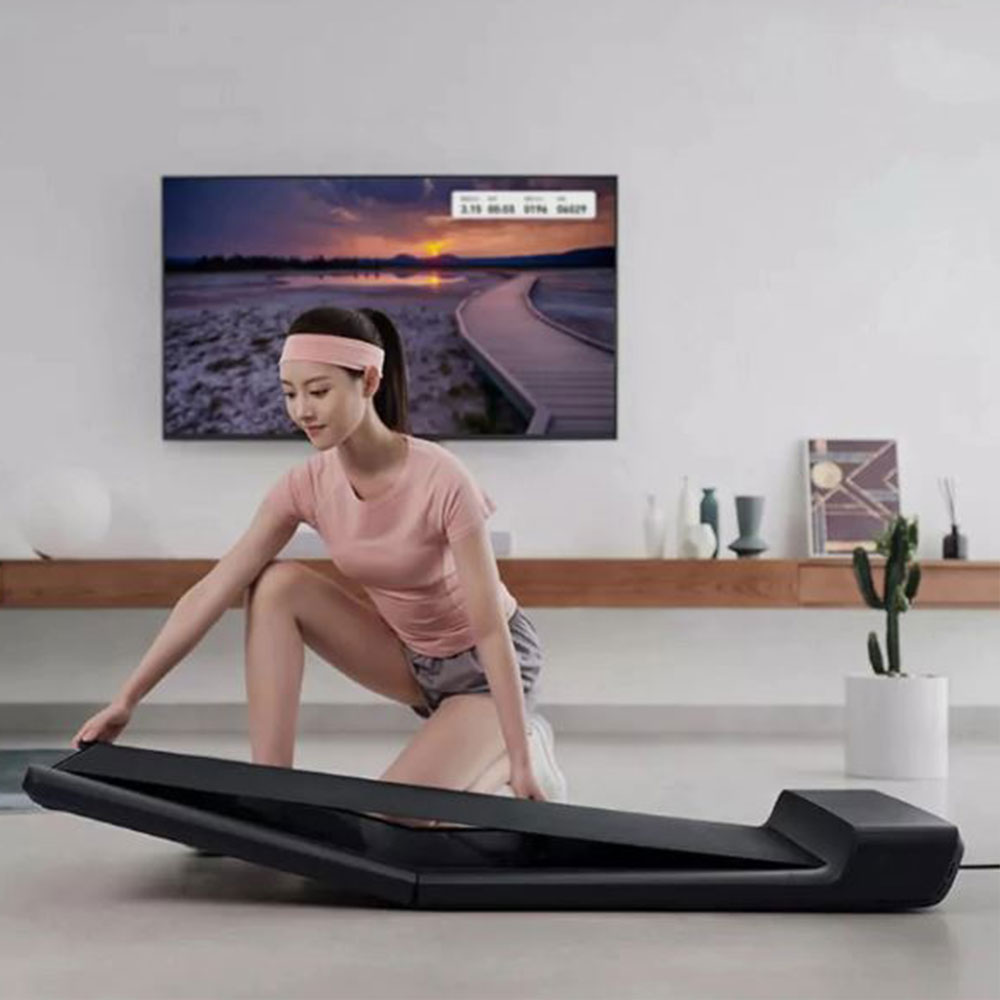 -Latest Upgrade
The Xiaomi Walkingpad A1 Pro is an upgrade from the previous walkingpad edition. This treadmill is able to reduce the noise made and the operation system is also very stable. The design is made to become more practical and more modern.
-Evening Walk
This Xiaomi Walking pad is very suitable for use at night, as it produces less noise so it will not disturb your neighbors or residents who want to rest. You can also calmly use this device when doing exercise at night.
– Foldable Design
The Xiaomi Walkingpad A1 Pro uses a foldable design that makes this tool take up less space when not in use.
– Foot Speed Control
The Xiaomi Walkingpad A1 Pro is equipped with a feet speed control feature, where you can accelerate by going forward to the front area or retreat to the rear area of this treadmill when you want to slow down.
-Two Modes of Operation
This Xiaomi Walking pad has two methods of controlling speed, namely using the remote control or by using feet adjustment. This treadmill has a speed range from 0.5 Km / H to 6 Km / H.
-Slim Design
Xiaomi Walkingpad A1 Pro is only 57mm high so you will feel like walking on a your floor.
– Comfortable On The Feet
The Xiaomi Walkingpad A1 Pro has several layers so you can walk more comfortably.
– Connected to Mijia App
Xiaomi Walkingpad A1 Pro can be connected using various applications from the Xiaomi Mijia App. Data can also be recorded properly when using the App.
Have you ever used a walking pad? Tell us your experience on using it!