This article and all photographs have been contributed by Uma and G.P Ganesan.
Belitung is an island in the Java Sea on the east coast of Sumatra, Indonesia. It is blessed with some of the best beaches of the country with bleached white sands and pristine brilliant turquoise waters. Although it is often called Seychelles of Asia but Belitung has a class of its own. Belitung is an excellent weekend destination just about 45 minutes by flight from Jakarta. A long weekend is always better suited to be fully immersed in the beauty of this serene getaway. Ideally suited both for couples and family with children.
Belitung has gained its fame after being featured in Indonesia's highest grossing movie called Laskar Pelangi (The Rainbow Troops). Belitung Island (also spelt Belitong Island) is blessed with fascinating granite rock formations which can be found only here and in the magical Seychelles. It is surrounded by around 100 small islands. Almost all of them boasts white sands and huge granite rocks. Administratively, it forms part of the province of Bangka-Belitung Islands. When you book a flight, please make sure that your travel agent books your ticket for a travel to Belitung with your destination listed as Tanjung Pandan or Tanjung pandan.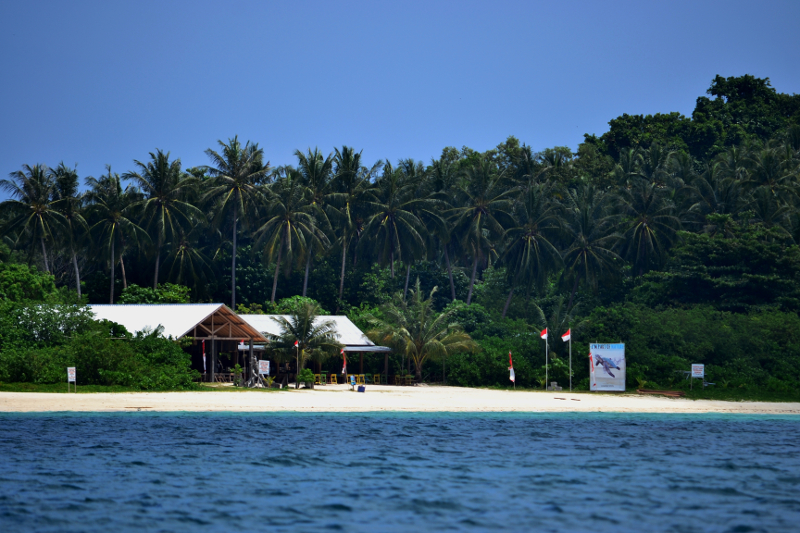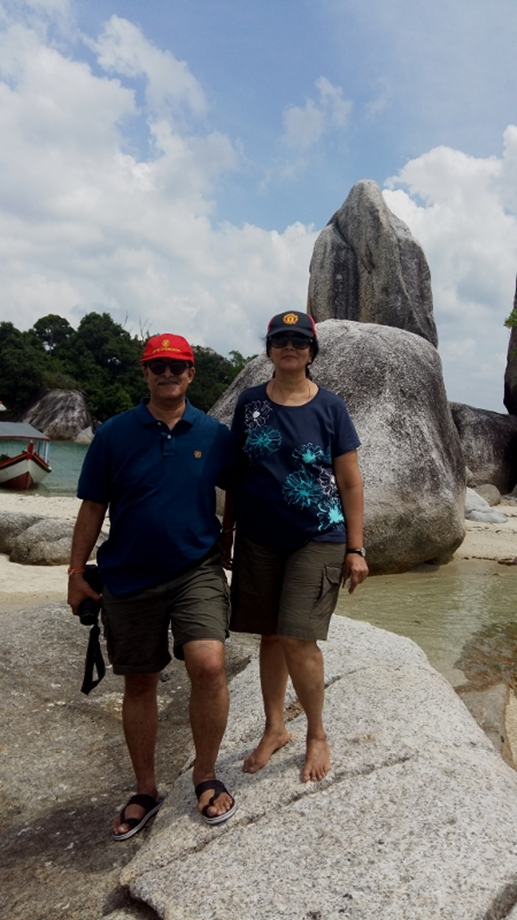 The Belitung island is known for its pepper and was the erstwhile mining town for tin. It is named after the Australian mining giant Billiton who were active in Tin mining in the area. It boasts of pristine turquoise sea known for deep sea snorkeling. A better time to visit will be during April- September and to avoid the rainy season. An ideal place to stay will be from a choice of hotels close to the beaches. Since long weekends are preferred time for visiting Belitung, planning and booking early is advantageous since the hotels fill up fast being closer to Jakarta and Singapore. My wife Uma and I planned our travel in August during a long weekend.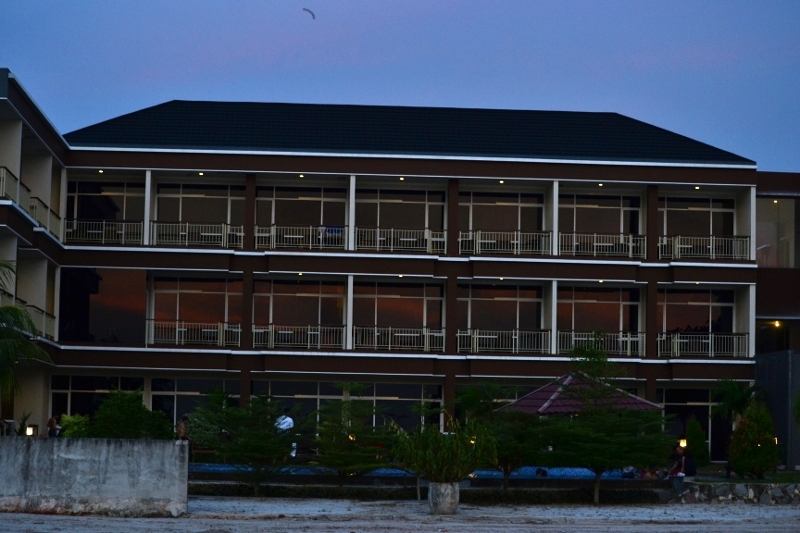 Due to heavy booking, we Initially stayed in Hotel Billiton. It is an excellent hotel in city centre.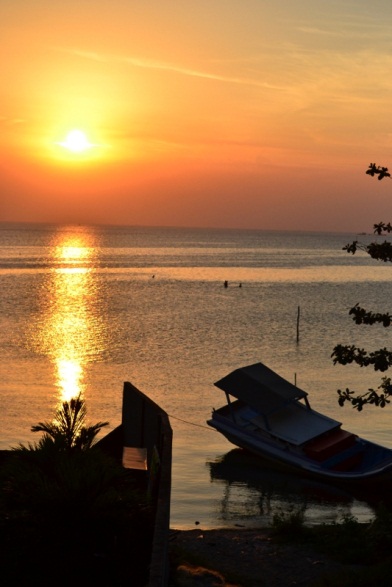 Sunset views are awesome in Belitung. With Java sea in the foreground, the reflections of the setting sun is a photographers moment of reckoning.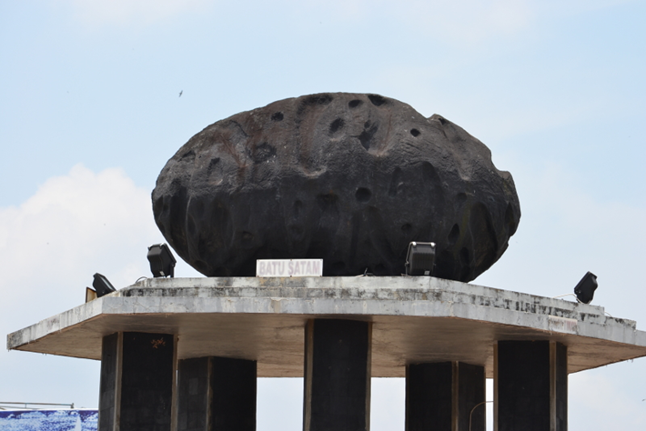 Just opposite Hotel Billiton is the Batu Satam monument. Batu Satam is a huge billitonite rock displayed in the monument. Billitonite is a Tektite material found only in Belitung. Tektite is a natural glass formed from a meteorite impact melts the local rock.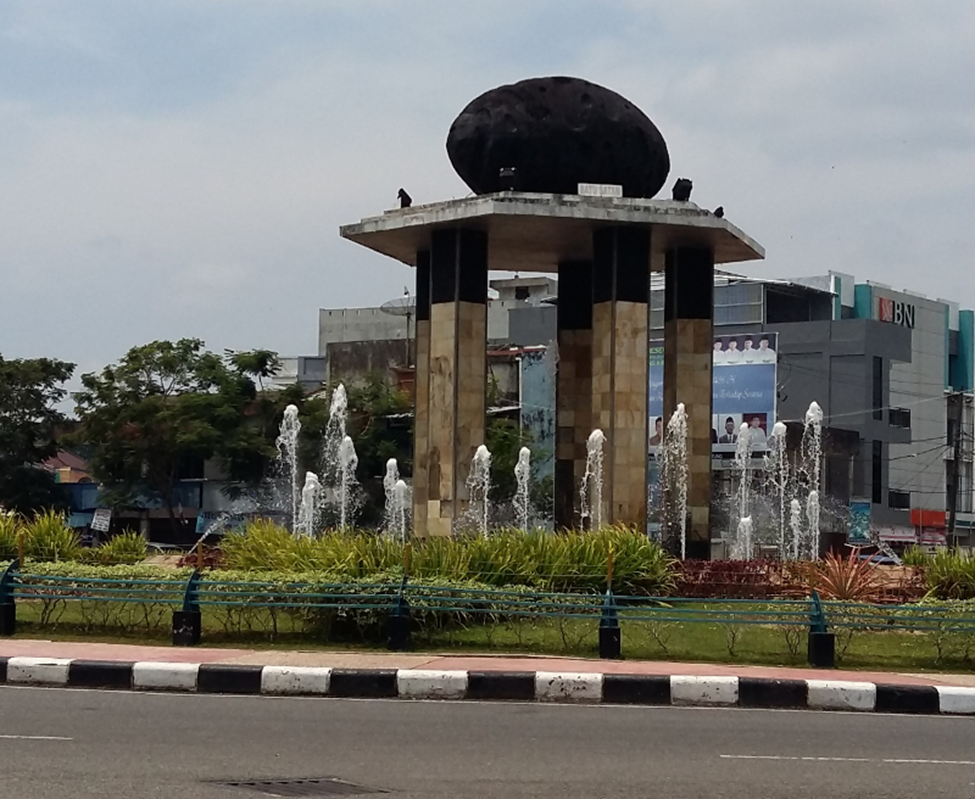 Rental cars are the best means to get around the island. This is usually arranged by the hotel of stay. For island-hopping, boat hires arranged by the hotels are easily available and reasonably priced. An early start on island-hopping definitely gives one an opportunity to see some of the beautiful shoals or sand bars visible during low tide and home to beautiful starfish.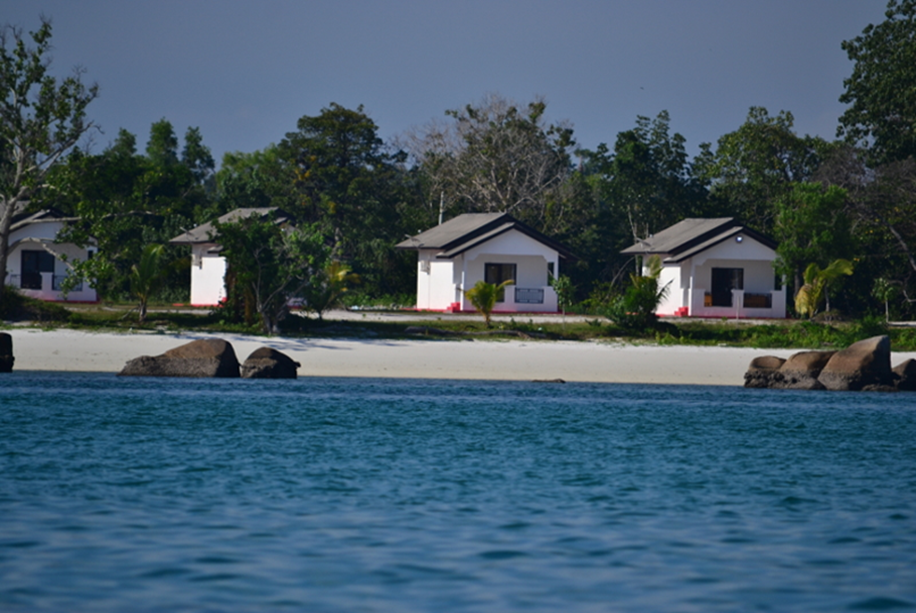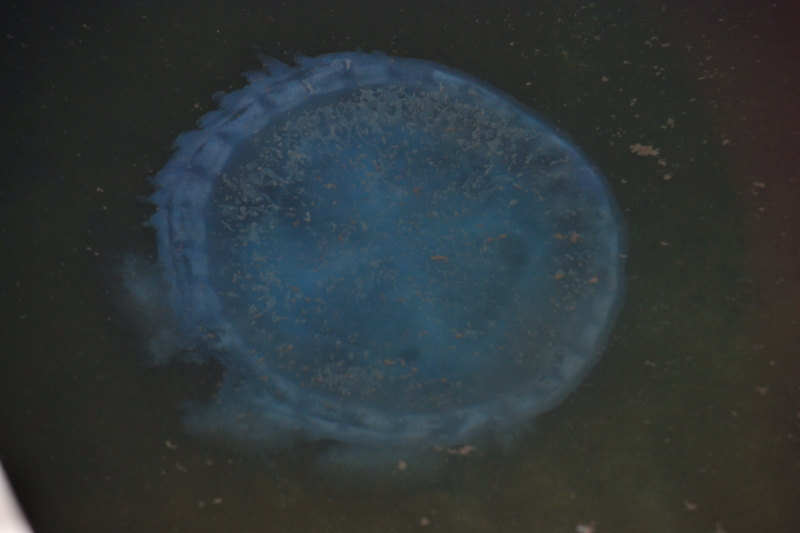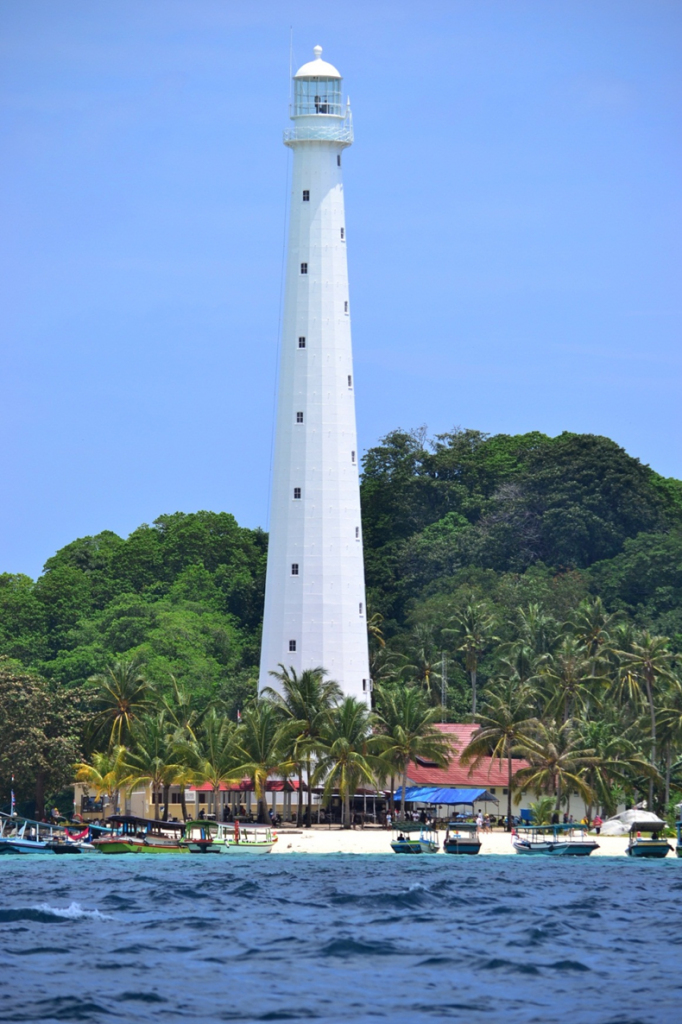 The Lengkuas Island is the site of a 19th century antique lighthouse. The island's nearly 130 years old lighthouse is an iconic landmark of Belitung. The lighthouse was built in Dutch colonial times and offers a beautiful overview of the area. It boasts of beautiful soft white sandy beach lined with palm trees. The calm, clear and shallow blue waters in the sea around Lengkuas Island is ideal for deep sea snorkeling. There are many snorkeling guides to help children and adults who enjoy this sport
One can climb a few floors in the light house to get a lovely view of the area, with permission from the security incharge. Burung (Birds) Island, Babi (Pig) Island, Pengadaran Island, Lutung (Langur) Island, Kera (Apes) Island and Jenang Island, are among some of the smaller islands that offer great view and experiences.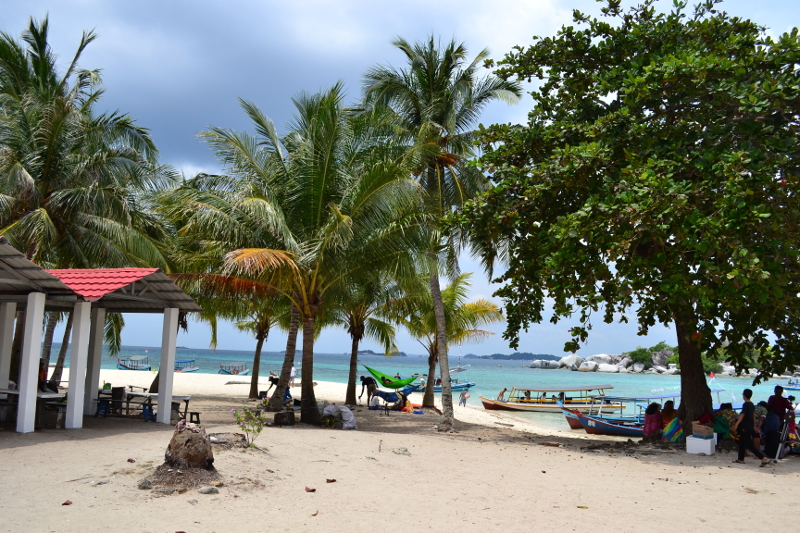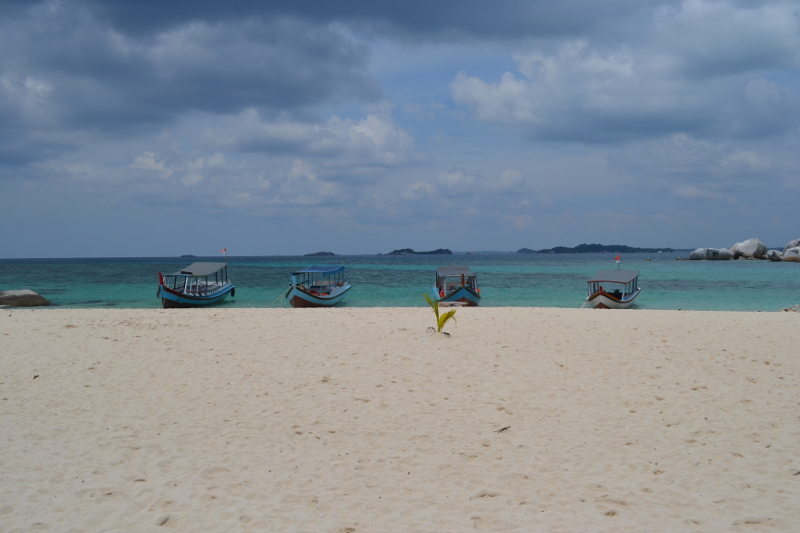 A must visit in the island hopping is Pulau Pasir. We had gone island hopping in the afternoon of the day we reached Belitung. However, since these shoals were submerged during high tide we could not see the sand shoal. We could experience a very rough patch of sea due to it being very shallow sandbar. The next day, we started early and we could see the lovely sand shoal spread out in an arcuate shape. We were told by our friendly boatmen cum guides that on these shoals we may be fortunate enough to see a number of starfish. We had just got down from the boat when we could see starfish just along the island. Soon we were  fortunate to see a number of big star fish near this shoal. We could click some lovely pictures of the same. One may get to spend about 30 minutes to an hour before the shoal is submerged.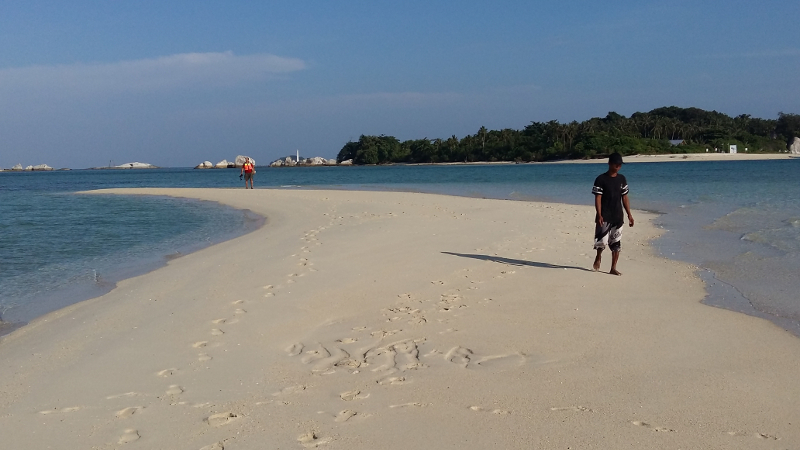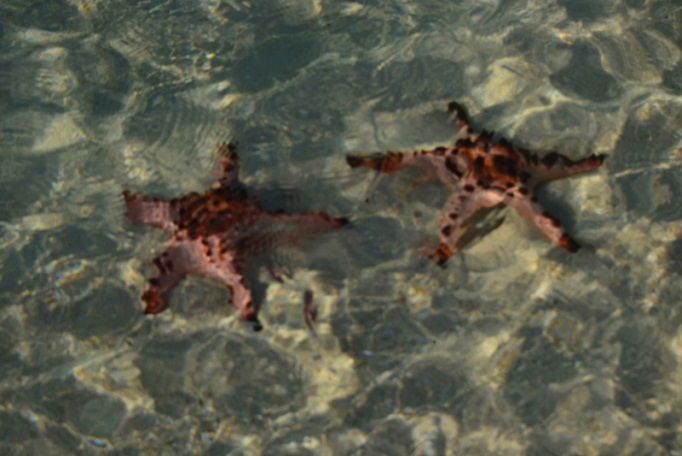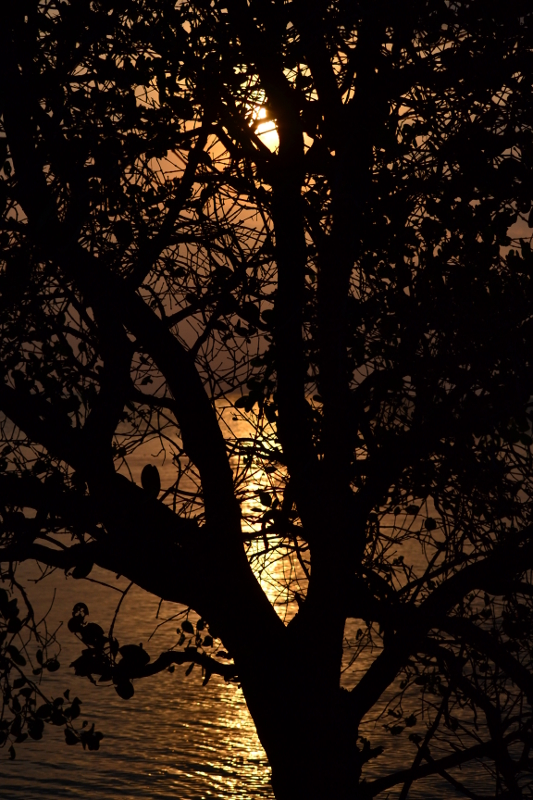 A short drive by car leads us to the Kaolin mining site with mined areas filled with bluish water. On the sides we find mounds of freshly mined kaolin clay. Kaolin clay is a result of the weathering of Gneissic rocks. Kaolin, or China clay is nearly white in color and very soft. Its ability to disperse in water makes it an ideal pigment.
The primary constituent in kaolin is the mineral Kaolinite, a hydrous aluminum silicate formed by the decomposition of minerals such as feldspar.  The primary use of kaolin is in the paper industry and serves as a paper coating which improves appearance by contributing to brightness, smoothness and gloss and also improves printability.  Kaolin still serves as a valuable component in tablewares. Kaolin has a variety of other uses in products including paint, rubber, cable insulation, specialty films and fertilizers. At the end of the visit to the Kaolin lake area, ones shoes will be covered with soft white clay.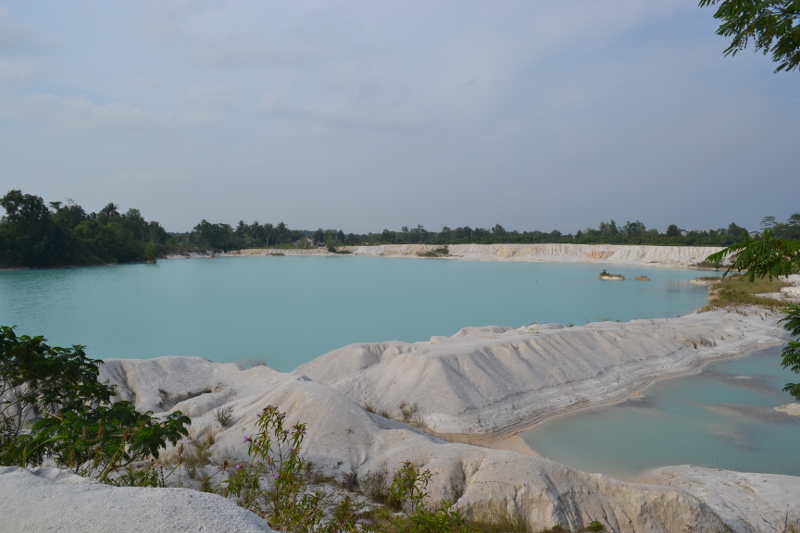 At Kaolin lake, we also saw huge granite boulders precariously balanced. It appeared to be a balancing act of nature as a result of weathering. These huge granitic boulders formed picturesque sites for a photo session. Our ever enthusiastic guide cum boatman posed for some memorable pictures on these boulders.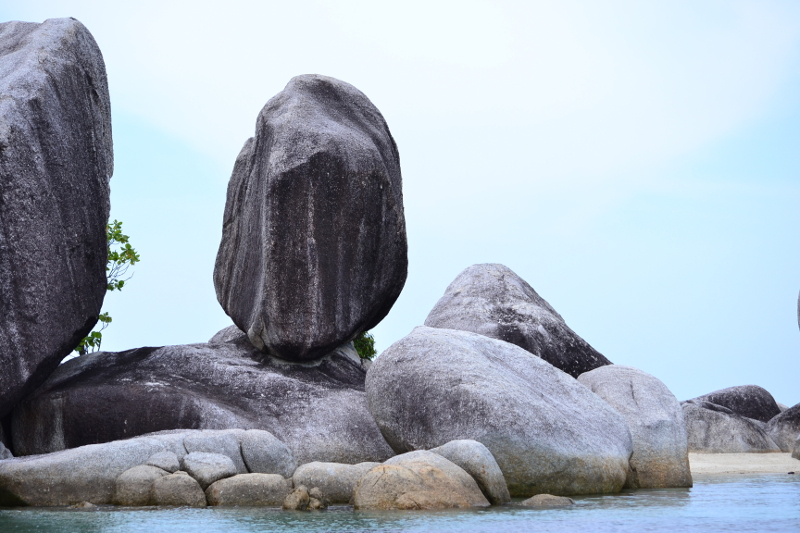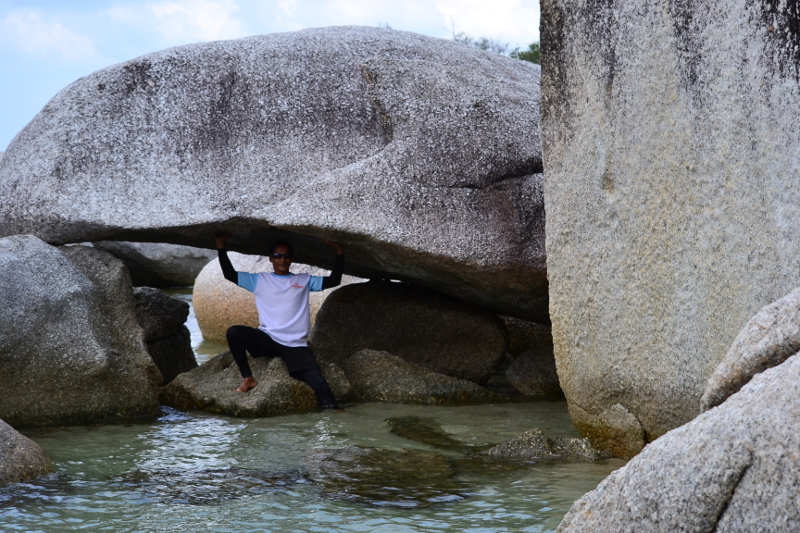 Although not a heavily-built man he posed like lifting the boulders. Being with us Indians he wanted a meditation pose atop the huge boulder. On second thought, the place was so serene and peaceful that it could be an ideal place for meditation.
All these granitic boulder dotted islands are part of the island hop tour.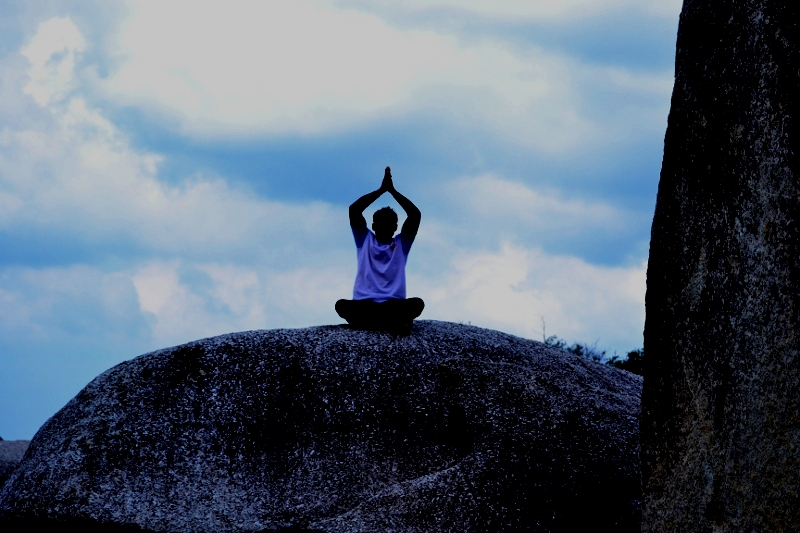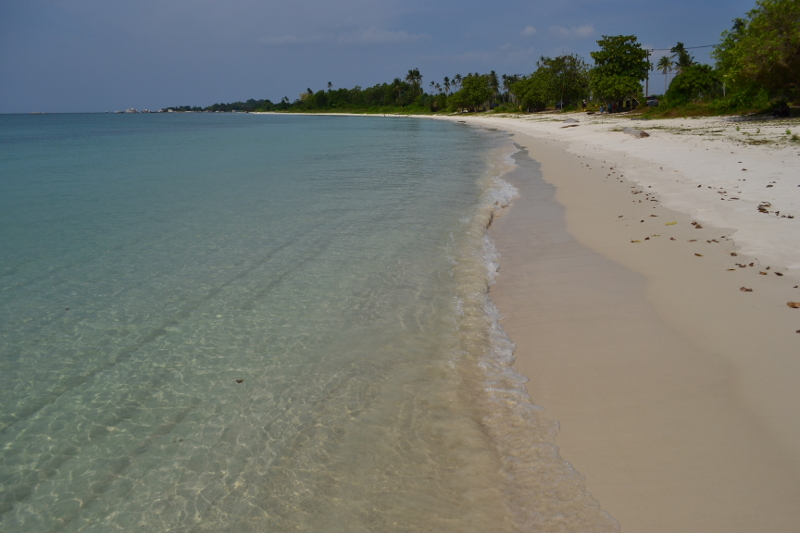 About the authors:
G. P. Ganesan is a Petroleum Geologist by profession, presently Heading the Exploration of an independent Upstream Oil company in Jakarta. He is passionate about travel and photography. Student of New York Institute of Photography and Sue Bryce Institute of Fashion and Portrait photography, Member of Nikon Indonesia and Nikon India.
Uma Ganesan is a homemaker and nutritionist by qualification. She is passionate about travel and macro photography.