For most people, when they want to go to a beautiful beach, Bali will automatically pop up in their minds. Does this happen to you as well?
Indonesia is an archipelago with many, many islands with exotic beaches. You may have heard of beaches such as Kuta, Raja Ampat, or Senggigi, but actually there are many other beaches that have been underrated. Do not label yourself as beach junkie if you haven't been to these beaches!
Rambak Beach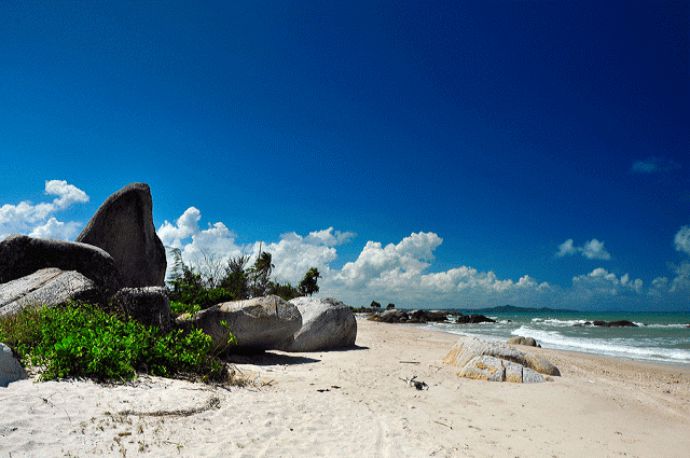 Rambak Beach is located at Bangka Island. This beach is not only about shining turquoise waters and white sand, but also giant granite stones along the coast. These granite stones look stunningly beautiful during sunrise, and have become the favorite object  of photography for the visitors.
How to get there: you can take a flight from Jakarta, Batam, or Palembang to Depati Amir Airport, Pangkal Pinang. From Pangkal Pinang, you can go to Sungailiat by car for about 1 hour. You only need to drive from Sungailiat for approximately 15 minutes to get to this beach. Cars can enter the beach area, and you can park it around wooden shelters around the beach as well.
2. Pulau Peucang Beach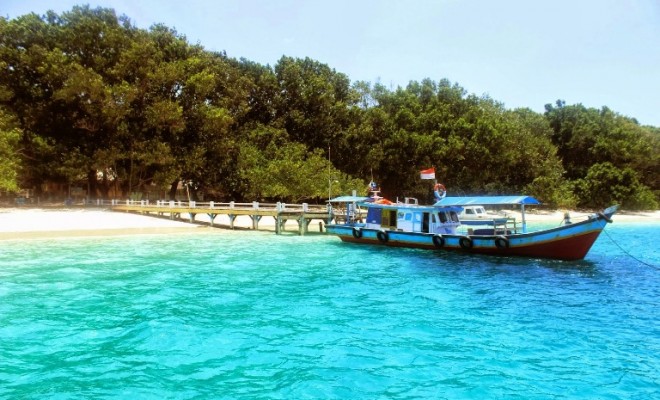 If you want to go to a quiet beach, Pulau Peucang beach can be your option. The clear water is wonderful for swimming or snorkeling. You can stay overnight at affordable resorts around Pulau Peucang. Other activities around the island include trekking to Karang Copong or seeing buffalos in wild at Penggembalaan Cidaon.
How to get there: Located at Ujung Kulon, Banten province, this beautiful beach can be accessed through ferries at Sumur sub-district, which is around 9 hours road trip from Jakarta. From Sumur, you can rent a boat for 10-15 passengers to Pulau Peucang.
3. Nihiwatu Beach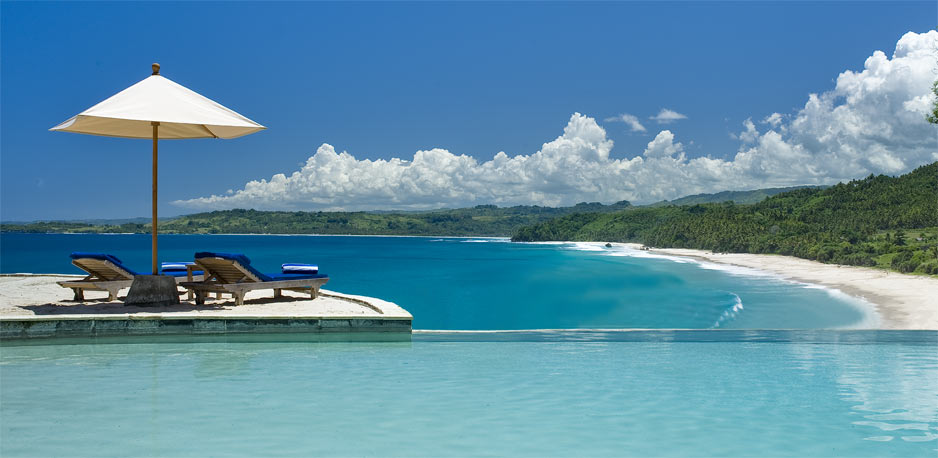 Nihiwatu Beach at Sumba Island is the 17th most beautiful beach in the world according to CNN. You can do all sorts of beach activities here: surfing, snorkeling, swimming, diving, you name it. Nihiwatu Beach is managed by international resort management, Resort Nihiwatu. So, if you want to enjoy the exoticism of this beach, make sure you book your room at Resort Nihiwatu first. The resort is closed from January to February, so the best times to go to this resort is during April to December.
How to get there: Take a flight from Bali to Tambolaka Airport (using Aviastar, Transnusa, Wings Air or Merpati) and continue with 2 hours land trip to Nihiwatu.
4. Klayar Beach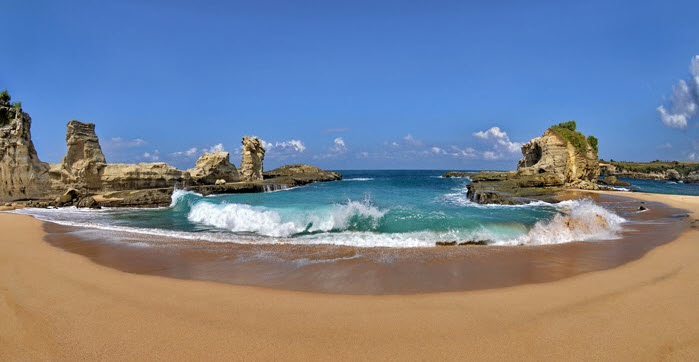 The south coast of East Java has spectacular hidden beach – Klayar Beach. On the east side, you'll find a beautiful lagoon that is flanked by two coral walls. The view of sea waves hitting the coral waves is hypnotizing!
How to get there: From Jakarta, you can choose either air or land transportation. You can take a flight to Adi Sumarmo Airport Solo, and continue with a bus trip to Solo-Wonogiri-Pacitan route. Or, you can take a train from Gambir Station to Solo Balapan Station for around 8 hours. From Solo Balapan, you can take a bus to Pacitan. This beach can be reached by 3 hours trip from Pacitan, East Java.
5. Ngurtafur Beach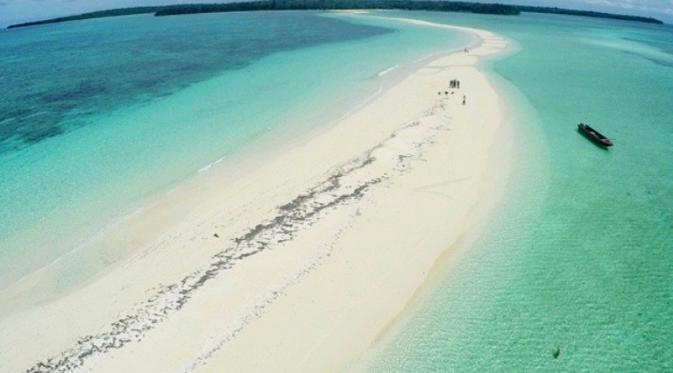 Eastern Indonesia is famous for its natural scenery. Ngurtafur beach is only one of them. This beach is located at Kei Islands, surrounded by Seram Sea, Banda Sea and Arafuru Sea. The land of Ngurtafur Beach land extends to 2kms and divides the sea into two parts. There's also turtle conservation center that you can visit. If you're lucky, you also can see a flock of Australian pelican migrating to Maluku from Australia or Papua New Guinea.
How to get there: To go there take a flight to Pattimura Airport, Ambon. Then you need to continue the flight to Dumatubun Langgur for 1,5 hours. After landing, you need to continue the trip to Tual before using motor ship to Debut Harbor. It might sound like a long trip (which it is), but the spectacular scenery at Ngurfatur Beach will take your tiredness away!
6. Ora Beach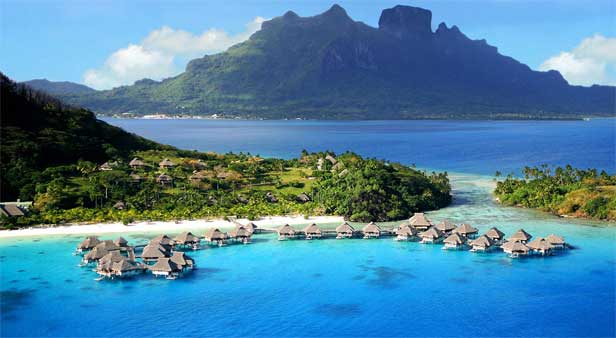 This is a  beach near Seram Island, Maluku. In this area you'll find resorts that directly face the wide and clear seascapes. You can see the colorful corals through the crystal clear seawater—you don't need to dive. The other attraction at Ora Beach is its night sky, where you can see the sparkling stars like pearls scattered on the surface of a black silk. It's breathtakingly beautiful.
How to get there: From Jakarta take a flight to Pattimura Airport at Ambon. From Pattimura Airport you need to use public transportation to Tulehu Harbor, and use a ferry to Amahai Harbor. After that, you'll continue the trip by riding land transportation to Saway Village before sailing with motor ship for 10 minutes to reach Ora Beach.
7. Lengkuas Island Beach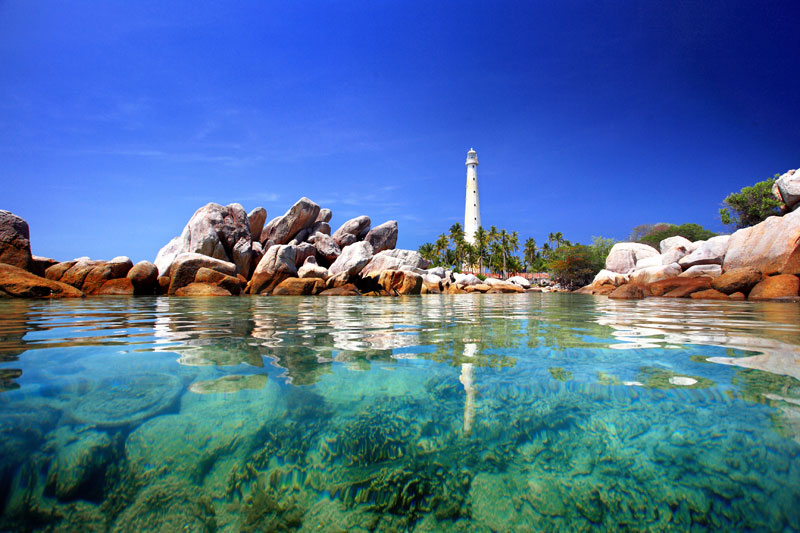 This tiny island has a beach with sparkling white sand and granite stones. The sea is shallow and calm with a carpet of sea coral, starfish, and colorful fishes. Lengkuas Island is located at Sijuk sub-district, Bangka Belitung. There is a lighthouse built by Dutch colony and visitors can freely go to the peak of this lighthouse. You can enjoy the 360 degree beautiful sea scenery from all sides of this lighthouse.
How to get there: From Jakarta, take a flight to H.A.S Hanandjoeddin Airport at Tanjung Pandan. visit this beach, you can rent fishermen's boat from several points such as Tanjung Kelayang, Tanjung Binga, or Tanjung Tinggi.
8. Ndaa Island Beach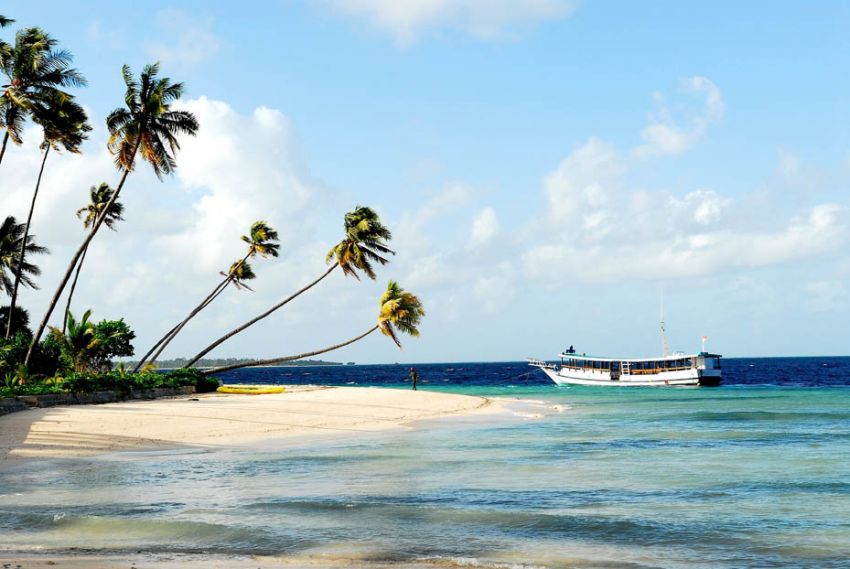 Located in the Wakatobi, this beach is quiet enough for you who want to spend time at a beach away from crowd. Visitors claim that this beach has a taste of a Caribbean beach! The carpet of white sand meets perfectly with crystal clear sea water, stress therapy for you!
How to get there: From Jakarta, you can take a flight to Wakatobi or Bau-bau. From Wakatobi or Bau-bau, continue the trip by boat to Tomia Island. From Tomi Island, you can rent a speedboat to Ndaa Island which takes around one hour, depends on the weather.
9. Sawarna Beach
Many people don't know that Banten province has a very beautiful beach – Sawarna beach, with a perfect combination of white sand, clear turquoise water, and green hills. The beach line is almost 65km long and covered by white corals and sand. You'll love to spend your weekend in this pretty place!
How to get there: if you're driving by yourself, you can go to Bogor via toll road to Ciawi. From Bogor, continue the trip to Cicurug via Parung Kuda – Cikidang – Pelabuhan Ratu route. From Pelabuhan Ratu, continue to Cisolok and Sarwana. If you're using public transportation, from Jakarta you can take a bus to Bogor (Baranang Siang terminal) from Lebak Bulus terminal. You can also take a Commuter Line Jakarta-Bogor and stop at Bogor Station. From Bogor, take blue MGI bus to Pelabuhan Ratu terminal. Upon arriving at Pelabuhan Ratu, you can take ELP to Bayah or directly to Sawarna.
Indonesia is sunny all year long, so beach vacation is a must for you. You can do your favorite leisure activities in these beaches—swimming, snorkeling, or just laying on the easy chairs and sipping fresh orange juice. So, what are you waiting for? Pack your luggage and let's go the beach!