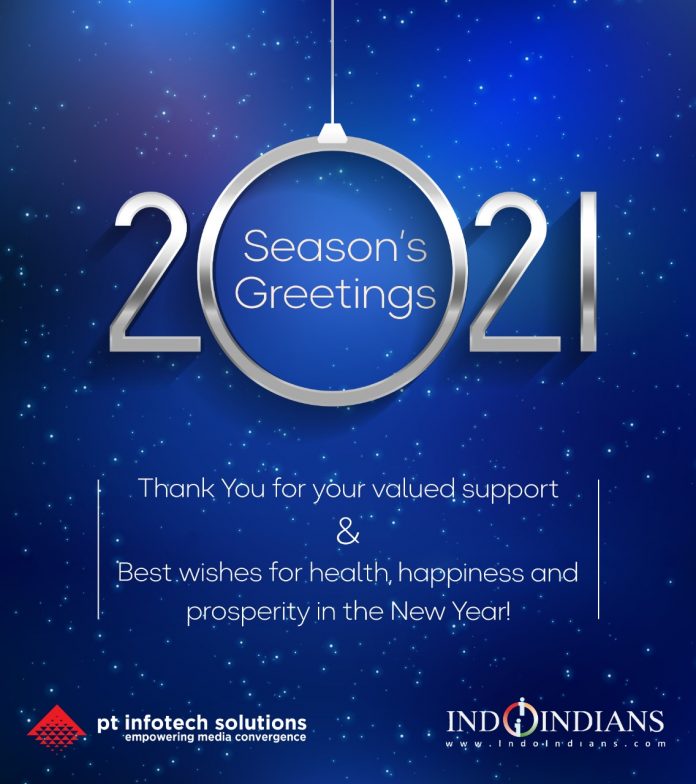 Indoindians Last Newsletter for 2020: Happy New Year: Thank You & Best Wishes for 2021
Namaste Friends,
2020 has been a year like no other. As it draws to a close, we reflect on the year gone by and look forward to the new year with renewed confidence and hopes.
May 2021 be your best year ever! Prepare for new opportunities, spiritual and financial increase, wonderful surprises, answered prayers, abundant health and happiness for you and your loved ones!
Reflect and plan this year-end holiday for new year goals:
– Predictions for 2021 by Astrologer Dr. Sundeep Kochar
– Get your online Astrology Reading with Dr Sundeep Kochar
– 10 #NewYearsEve Festivities You Can Do This Year
– Steps to Goal-Setting for your New Year's Resolution
– 8 Tips to Achieve Your New Year Resolutions
– Conquer Clutter – Tips for organizing yourself for the new year
– Build a New Year Wellness Routine
– Carl Massy's Top 5 Happiness Tips for a New Year
– 5 Creative Hobbies to Take Up This Year
– 10 New Year Mantras: Key to Wellness by Aditi Srivastava
AgVa Ventilator (Made in India) – The world's Smallest and Smartest Ventilator now available for rent in Indonesia. Controlled by an android tab and so small that it can be carried in a backpack. A complete, effective, economical and easy to use ICU ventilator, for home care, ambulances, clinics and more. For more info contact PT Pravis at +62 811 878 1200
Wishing you and your loved ones good health,
Happy Holidays and a Hopeful New Year!
Indoindians Team
Indoindians Last Newsletter for 2020: Happy New Year: Thank You & Best Wishes for 2021 here>>