Ceylon CC & Emerio CC Win Their Opening Games to Get The JCA Season Started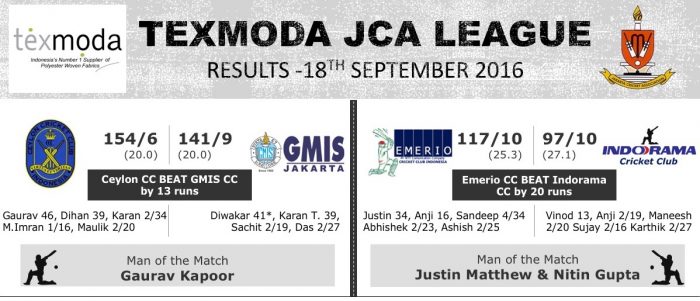 JCA Cricket Update
The Texmoda JCA League 2016-17 season, kicked off today with Ceylon CC & Emerio CC winning their respective Division 2 games. In order to account for what is threating to be a very wet year ahead, the JCA has created an innovative, mixed-format league for the year, with an equal mix of 35 over & T20 games.
The first game of the day saw Emerio CC locking horns with Indorama CC on their home turf at the Purwakarta cricket ground. Emerio CC would have immediately regretted their decision to bat first on a slow, grassy & damp outfield as they lost their opener in the 3rd over. Palwinder & Nitin stabilized the innings with a brief partnership. But the introduction of spin in the form of Ashish Khaitan (2/25) sparked a collapse as he along with Abhishek Sharma (2/23) & Sandeep Kakkar (4/34) ripped the heart out of Emerio CC's middle-order and had them in deep trouble at 76/8. The entry of Emerio CC's star of the day, Justin Matthew (34) & his attacking, 41run partnership with skipper Anjaneyulu Katta ensured Emerio CC bowlers had some runs to fight with as they finished at 117 all out in 25.3 overs.
Indorama CC, the happier side at the break, started cautiously fending off a probing opening spell. But, Maneesh Dubey (2/20) got Shailesh caught behind (one of the 6 catches taken by the keeper, Nitin Gupta) & bowled Vinod (13). Indorama kept losing wickets regularly, thereafter & once Karthik (2/27) accounted for the veterans Srikkanth & Vishwajit, things were looking ominous. The last wicket put on a fighting 21 runs, but Sujoy got rid of Sudhir to calm some tense nerves and take Emerio CC to their first win. "It was good to prevail winners in a low-scorer" said Anji, Emerio's captain.
In the 2nd game, a T20 game, GMIS CC would have been pleased with having decided to bowl first when they had both the Ceylon openers back in the hut for just 15 runs and Mohammad Imran (1/16) was keeping it very tight. But this was going to be a day for the Ceylon stalwarts, and Dihan Silva (39) started it off by going after the bowlers. Karan Tiwari (2/34) got rid of Dihan & Maulik Trivedi (2/20) got Baba & Rajeev to lead a GMIS fightback. The second Ceylon stalwart, Gaurav Kapoor (46 not out in 32 balls), then stepped in, and it was his turn to scythe the attack and drive Ceylon CC to finish at a competitive 154/6 in their 20 overs.
Karan Tiwari (37) was holding up one end while wickets were falling at the other end. But the innings needed some impetus and the hopes were high when Naresh, the Gaylestorm walked in to bat. But the canny Dihan Silva had other ideas as he first, outsmarted Naresh, who holed out for a duck, and then, ran out Karan Tiwari, dealing a double-blow. Diwakar Mohan (41) fought valiantly, but just didn't get enough support from the other end. The Ceylon opening bowlers Das (2/27) & Sachit (2/19) returned to ensure GMIS CC could only manage 141/9 falling 13 runs short. "Happy to find some good form at the start of the league" said Gaurav, the man of the match.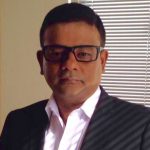 by Suresh Subramanium