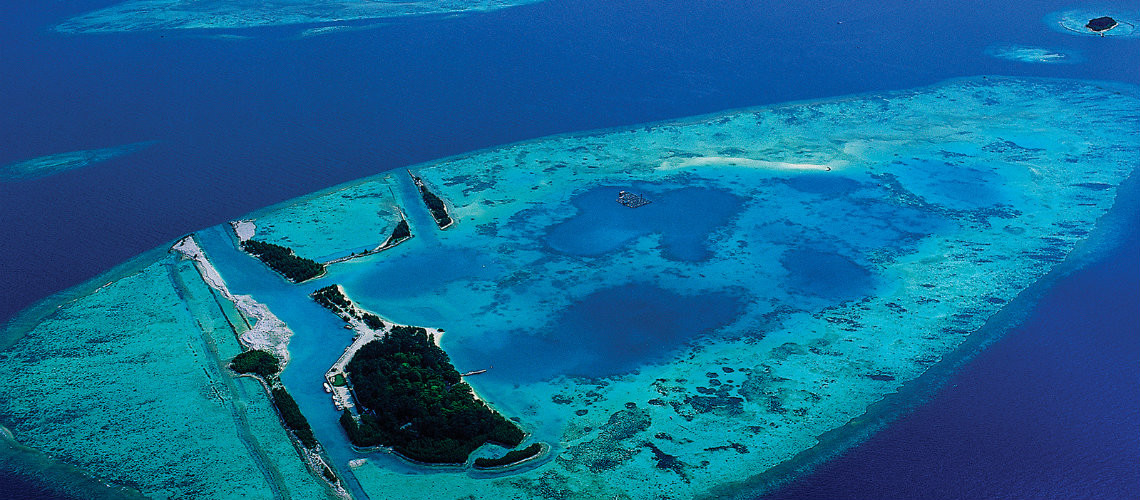 For day trips, weekend excursions or short holidays there are many options within easy reach of Jakarta. The surrounding provinces of Banten and West Java offer beautiful scenery, volcanic mountains, green rice fields, verdant plantations and tropical beaches as well as fascinating historical and cultural sites.
To the north of the city in Jakarta Bay lie the Pulau Seribu or Thousand Islands. In spite of the name there are in fact about 120 tropical islands and coral atolls. Some of the islands are uninhabited, some are home to fishing communities and some are privately owned by wealthy individuals. Onrust (Kapal), Bidadari, Kelor, Kayangan and Damar Besar islands are designated historical sites where visitors can see the remains of a Dutch East Indies shipyard, ruins of forts, a lighthouse over 100 years old, a museum and cemetery dating back 300 years. A few of the islands have been developed as holiday resorts, such as Pulau Seribu Marine Resort (Pantara), Kulkul Kotok Island Resort, Mentari Resort and Sepa Island Resort. Cottage style accommodation is provided with a wide variety in quality of resort facilities and services. The attractions of these resorts include clear water, beautifully colored coral reefs and an abundance of marine life. Water sports available include wind surfing, pedal boats, jet skiing, swimming, sailing or boating, snorkeling and diving. Holidays to the Pulau Seribu islands can be arranged through travel agents or dive shops and packages include boat transport for the 1 to 2 hour journey departing from Ancol Marina.
Adjoining Jakarta to the west is the province of Banten. The historical town of Banten is on the north coast about 1½ to 2 hours drive from Jakarta. Here you can visit the ruins of Fort Speelwijk and the adjacent Chinese temple, one of the oldest still in use in Java.
Further west along the west coast of Java are a series of beaches, from Salira Indah beach just north of Merak where the ferries cross the Sunda Strait to Sumatra, Karang Bolong, Anyer, Sambolo, Carita to Tanjung Lesung. Accommodation ranges from simple cottages and home stays to 5 star hotels, and water sports available include swimming, tubing, jet skiing, paragliding and traditional boating. The popular beachside bungalows at Sambolo are available on 6 or 12 month lease. The simple, comfortable cottages made of natural materials, the safe sandy beach, and the policy prohibiting loud music and jet skis make this an ideal place to enjoy true relaxation (www.sambolo.co.id). The 1,500 hectare Tanjung Lesung Sailing Club resort has a fleet of various kinds of sailing boats, while members may bring their own boats to store at the club. In addition to sailing you can also enjoy fishing, snorkeling, canoeing, jet skiing and wind surfing (http://tanjunglesungsailingclub.com). You could also stay at the hotel (www.tanjunglesung.com/hotel.html).
The west coast beaches have views of Anak Krakatau (Child of Krakatau), the island volcano in the Sunda Straits. After the mighty eruption of Krakatau in 1883 completely destroyed the volcano, the remains of the original crater now exist as several small islands and Anak Krakatau has emerged as an active and constantly growing volcano.
Further around the coast and approximately 3 hours drive from Jakarta via Bogor and Sukabumi is Pelabuhan Ratu. Attractions include nice beaches for swimming and surfing, although the surf can be treacherous, diving at Karang Antuk, hiking inland, hot springs at Cisolok, and a cave where the bats fly out at dusk. There are a number of good hotels and restaurants or you can taste delicious fresh seafood barbecued on the beach such as Ocean Queen Resort (www.oceanqueenresort.com) and Kuda Laut Beach Resort (http://home.hum.uva.nl/kudalaut).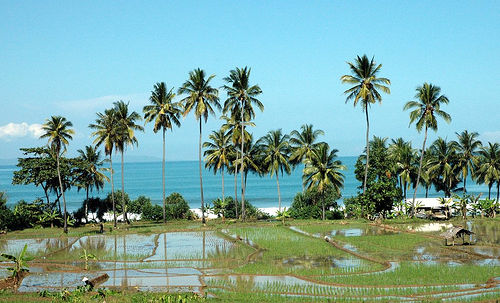 On the remote westernmost tip of Java the Ujung Kulon peninsula is a national park and wildlife reserve, the home of the almost extinct one horned Java rhinoceros. For those who love nature this is an exciting place for hiking and camping, and there is good scuba diving and snorkeling at offshore coral reefs. Panaitan Island off the coast of Ujung Kulon has some great surf beaches but access is difficult.
The Citarik River, with many rapids of varying degree of difficulty, is the place to go for white water rafting. Several reputable companies with offices in Jakarta can organize rafting trips.
Just 60 kilometers south of Jakarta and easily accessible by toll road is Bogor, a town that the Dutch previously named Buitenzorg, meaning without worries. This name originally applied to the residence of the Governor General then came to be used for the whole town. Here the Dutch Governor General could retreat from the heat and disease of old Batavia to the relatively fresh, clean air. The building, dating back to 1856, is now the Presidential Palace, which is used on ceremonial occasions and houses part of the first President Sukarno's collection of paintings and sculptures. Spotted deer roam freely in the grounds of the palace. Group visits to the palace can be arranged with prior permission.
Adjoining the Presidential Palace are the impressive Botanical Gardens founded in 1817 and covering 87 hectares. There are lawns, flowerbeds and magnificent old trees as well as areas of dense vegetation, with over 15,000 species of plants both native to Indonesia and from all over the world including rare orchid species. Sundays and public holidays are extremely crowded, but on weekdays you can drive your car right into the gardens.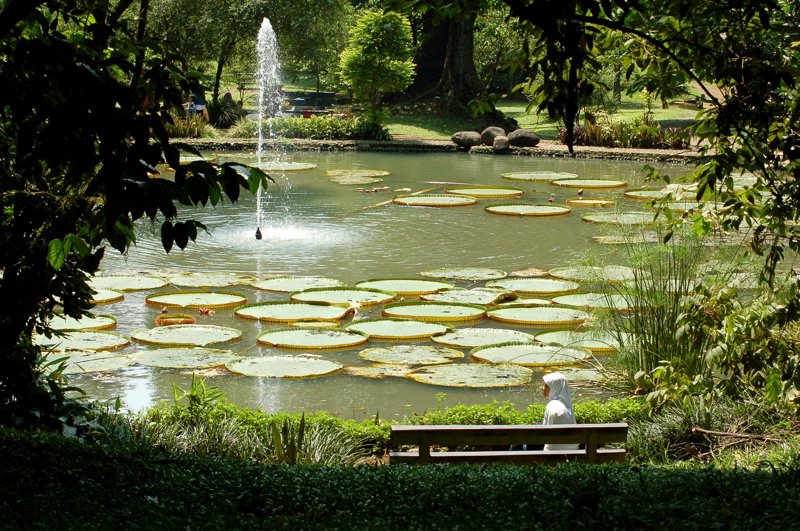 Another interesting place to visit in Bogor is the Gong Factory at Jl. Pancasan No. 17. This small, dark, smoke-blackened workshop produces bronze gongs and gamelan sets, all forged over open fire pits and beaten into shape by hand using century old methods.
A little beyond Bogor in the direction of Sukabumi and about 1½ hours drive from Jakarta is the Lido Lakes Resort. Many activities are available at this mountain resort including swimming, tennis, golf, fishing, mountain biking, off road driving in all terrain vehicles, white water rafting, parachuting, hang gliding and joy flights in ultra light aircraft (www.lidolakeresort.com/).
Past Bogor in the direction towards Puncak there are many restaurants, hotels and villas available for rent. At Cisarua you can stop off and visit Taman Safari. Drive in your own car through this safari park to view up close many kinds of indigenous and imported animals, including hippopotamus, elephants, giraffes, zebra, camels, deer, orangutan, as well as lions, tigers and bears in special enclosures. There is also a petting zoo, an amusement park and aerial gondola.
Puncak means summit and is actually the 1,500-meter high pass between Mount Pangrango and Mount Gede, at a distance of 90 kilometers from Jakarta, however the whole surrounding area is now referred to as Puncak. Here you can enjoy trekking and horseback riding or just relax and appreciate the scenic views and cool, misty climate. You will have plenty of opportunity to buy fresh fruit and vegetables to take home from the many roadside stalls. The Gunung Mas tea plantation and factory located just before the mountain pass offers a very pleasant and interesting walk through the tea plantation and guided tours of the factory and plantation can be arranged. See the tealeaf pickers at work and enjoy the views of surrounding mountains and hills. There is also a tea room and small restaurant.
Nature lovers can enjoy a close-up experience of tropical rain forest by taking a guided trek or canopy walk through the Gunung Gede Pangrango National Park by arrangement with Conservation International and the Bodogol Conservation Center.
Past Puncak, at Cibodas you will find Kebun Raya Cibodas, the high altitude section of Bogor Botanical Gardens for plants from temperate climates. The park was established in 1862 and covers 80 hectares bordering on the Gunung Gede Pangrango National Park.
You can picnic in spacious meadows, hike through pine and eucalyptus forests or take a scenic walk to Cibeureum waterfall. For hiking or camping you should register first at the national park office where trail maps are available.
For a less adventurous but pleasant way to enjoy nature you can visit Taman Bunga Nusantara, a 23-hectare flower park. The park has over 10,000 square meters of flowerbeds and 10 theme gardens, such as French, Mediterranean, American, Japanese and Balinese. There is also a huge greenhouse for special plants, a viewing tower, picnic area, restaurant and tram tours that run around the whole park at regular intervals (www.tamanbunganusantara.com).
You can reach Bandung, the capital of West Java province, in 2 hours via the Cipularang toll road or in 3 or 4 hours via the scenic Puncak route, while the train trip takes 3 hours. Once known as the Paris of Java, Bandung has lost much of its charm due to unregulated development and rapid population growth, but it still has some well-preserved examples of 1920s 1940s art deco architecture. Bandung is also well known for its shopping, particularly factory outlets, jeans and shoes. Don't miss out on a visit to Saung Angklung Udjo in the village of Padasuka on the outskirts of Bandung for a delightful music performance by children playing the angklung, a percussion instrument made of bamboo (www.angklungudjo.co.id).
Lembang is a resort town in the hills just north of Bandung with a cool climate and within easy reach are Maribaya park and waterfall, Sari Ater hot springs and Tangkuban Prahu volcano. You can drive right up to the edge of the crater of this still active volcano, which from a distance has the shape of an upturned boat.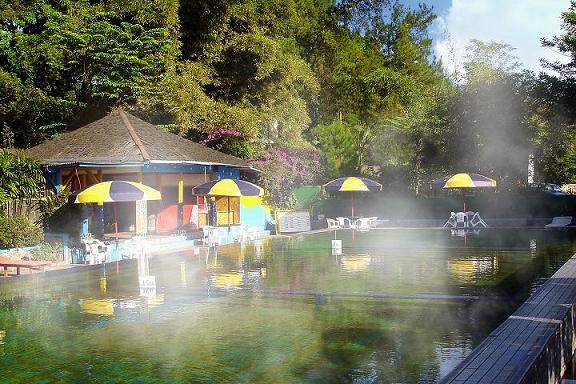 South east from Bandung, the district of Garut has a number of attractions including tea plantations, volcanic mountains, a natural spring with swimming pool at Tirtagangga hot springs, and Candi Cangkuang a small, ancient Hindu temple beside a tranquil lake. In a valley hidden from the main road is Kampung Naga, a village that maintains its traditional customs and way of life. A great place to stay in this area is Kampung Sampireun Resort (www.kampungsampireun.com).
Eventually reaching the south coast of West Java not far from the border with Central Java, you come to Pangandaran a small peninsula at the tip of which is a wildlife reserve with monkeys, tapir, small deer and many species of birds. You can explore caves and secluded beaches, go snorkeling, fishing or trekking. There are two beautiful beaches for swimming, surfing or just relaxing, with basic hotel accommodation available at Pananjung (www.pangandaran.org).
To the southeast from Jakarta the main attraction is Lake Jatiluhur, about 2 hours drive or 120 kilometers from the city. Jatiluhur dam on the Citarum River was officially opened in 1967 and is part of the hydroelectric power generating system supplying Jakarta and West Java, as well as being used for irrigation and fisheries. The vast man-made lake covering about 80 hectares is also an ideal recreation spot for swimming, boating, water skiing, with a backdrop of rugged limestone mountains. Nearby in the ceramic and pottery artisan's village of Plered you can visit workshops where pottery is still made by traditional methods and buy pots at bargain prices.
Cirebon is the second largest city in West Java and also the oldest city on the island of Java. A port city, it is located on the north coast of Java about 3 hours drive east of Jakarta, and is well known for its fishing industry and batik industry producing a distinctive style of cloth. A number of historic sites are still preserved including the two kratons or palaces of the local sultans.
There are numerous travel agents in Jakarta that can help you plan your weekend getaways and make bookings. You are sure to enjoy some unusual and memorable experiences!