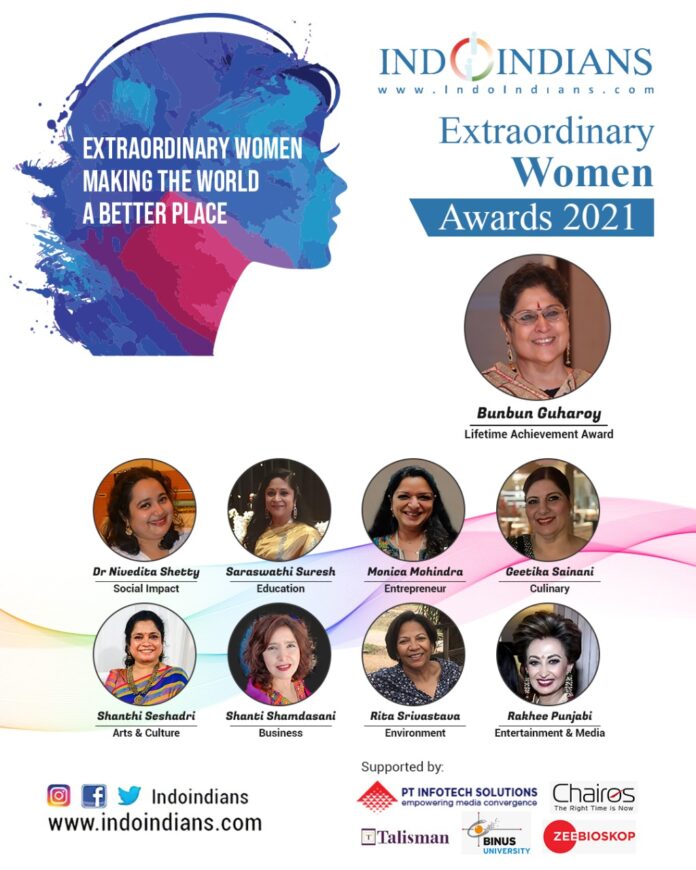 Indoindians Extraordinary Women 2021 Awards Ceremony 
Celebrating the Indoindians Extraordinary Women 2021 Awardees
This has been an incredible journey of formally recognizing so many wonderful women in the Indoindians community that have made extraordinary impact in this part of the world.
Awardees reflect diverse fields of expertise of Indian women living in Indonesia. They are role models and an inspiration.
This year we are proud to announce Awardees across 9 categories, as below:
1. Lifetime Achievement: (Late) Bunbun Guharoy 
2. Social Impact: Dr Nivedita Shetty
3. Education: Saraswathi Suresh
4. Entrepreneur: Monica Mohindra
6. Arts& Culture: Shanthi Seshadri
7. Business: Shanti Shamdasani
8. Environment: Rita Srivastava
9. Entertainment & Media: Rakhee Punjabi
We thank our independent jury panel comprising of:
– Anamika Bharti
– Prita Kemal Ghani
– Marvin Suwarso
– Sachin V Gopalan
– Sari Kusmaningrum
About the Awards
Indoindians Extraordinary Women Awards is a platform to promote the positive impact women make on society. To recognize, honor, celebrate and bring greater visibility to women's achievements in various fields. The awards encourage ambition, empower confidence and inspire new female leaders now and into the future.
Encouraging women to put themselves forward or by nominating suitably qualified women, the diverse strengths and achievements of successful women across industries, and backgrounds is celebrated.
Judging and prizes
Finalists were shortlisted for each awards category and a judging panel will picked one winner in each category.
The winners will be showcased on Indoindians.com and all of its channels.
Supporting Partners