It seems that Bali really deserves the "health destination" label for many reasons. First, Bali is a great place for you to detox your mind from the hustle and bustle of the city. Here you can get health retreats like yoga and meditation to find serenity. Second, you can get endless spa treatments that will relax your body and mind. Lastly, Bali is also home for many healthy eateries where everything is organic, vegan, vegetarian, or gluten free.
Because your body and health deserves a holiday to, let's treat them at these healthy cafes and restaurants in Bali:
Watercress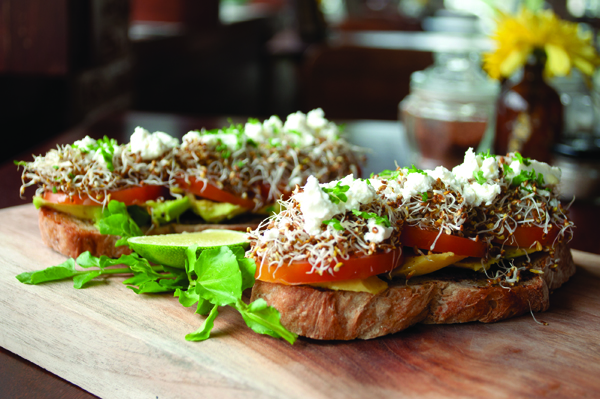 One of the pioneers in the healthy café culture in Bali, Watercress is known for its international showcase menu where various dishes occupy the personalized plates of guests. The dishes here are as simple as Watercress' sprout sandwich filled with the café's homegrown sprouts and local tomatoes and avocados. In addition to its delicious and fresh menus, Watercress is also known for its simple, rustic and cozy interior design supported with communal seating.
Location:
Jalan Batu Belig No 21 A, Kerobokan Kelod, Kuta, Bali
Phone: +62-85102808030
Fivelements Sakti Dining Room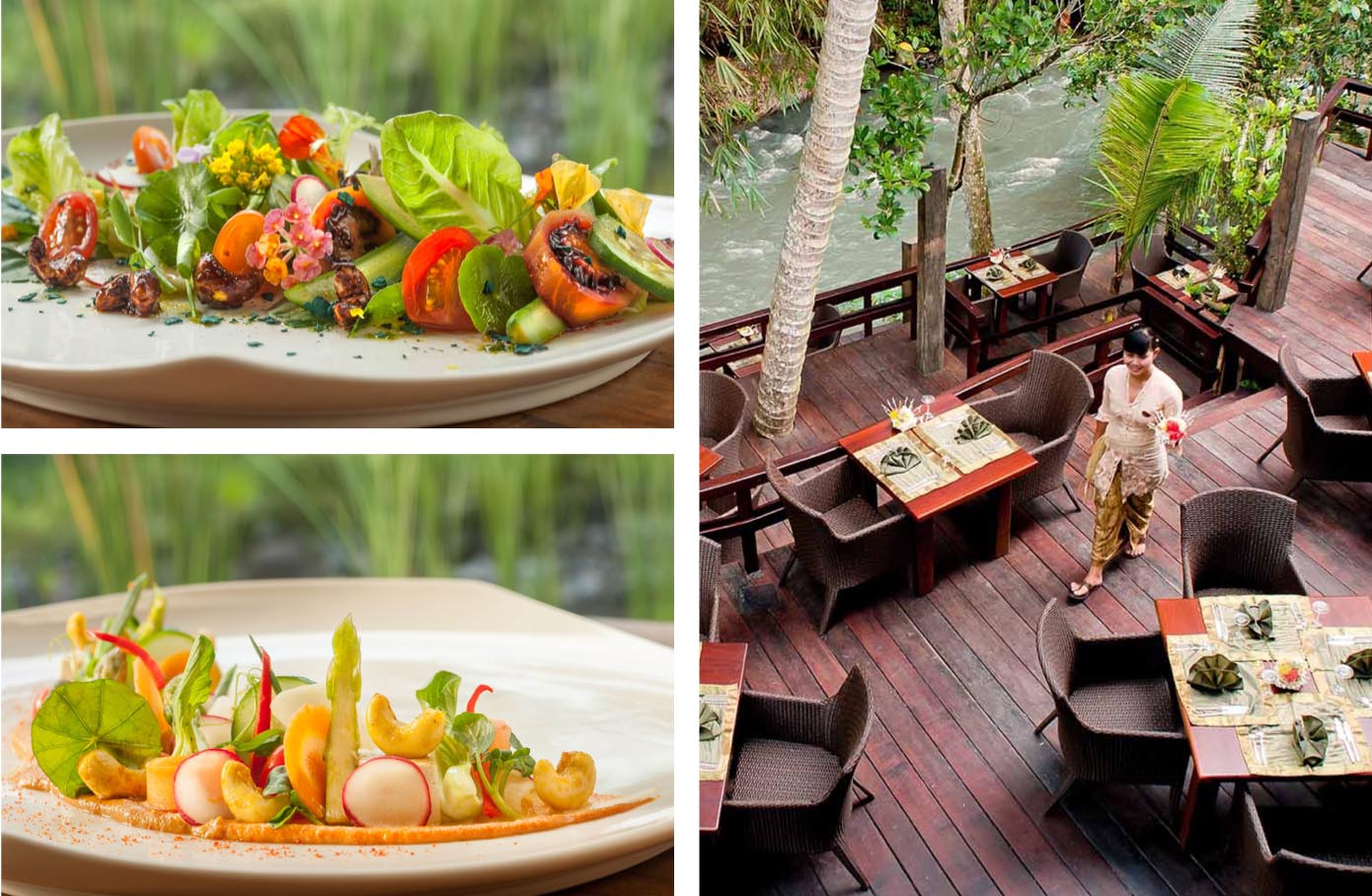 Sakti Dining Room features an epicurean plant-based, raw vegan living food cuisine. So don't be surprised if you find raw pizza, raw lasagna, and raw pasta here. The menus at Sakti Dining Room are designed to give optimal plant-based nutrition and high energy whilst inspiring a gastronomical journey. Its eco-luxurious setting will also make your body, mind, and soul happy.
Location:
Fivelements, Puri Ahimsa Banjar Baturning, Mambal, Bali
Phone:+62-361469260 / +62-469206 / +62-82146587975
Earth Café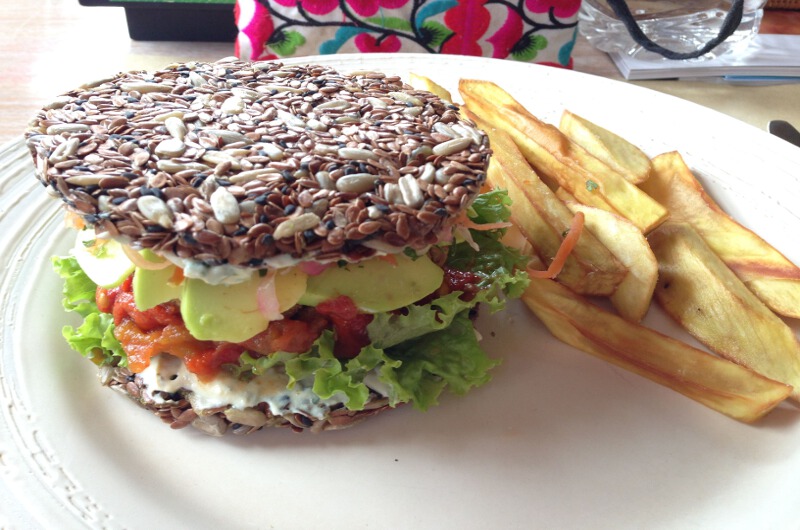 Earth Café is a vegetarian organic restaurant, with wheat free, gluten free and raw options. It operates according to strict Western standards of food preparation, handling, and preservation. All of the nutritious foods and drinks at Earth Café are free of bleached salts and sugars, hydrogenated oils, and chemical additives or preservatives.
Locations:
Jalan Lesmana/Oberoi No 99, Seminyak, Bali
Phone: +62-85103044645
Jalan Goutama Selatan, Ubud, Bali
Phone: +62-361976546
Nalu Bowls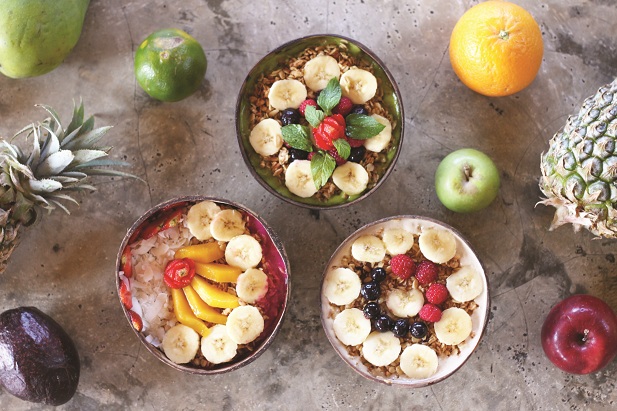 This Hawaiian-inspired smoothie bowl shack is a staple in Bali. Think fresh coconut, mango, banana, papaya and spinach topped with homemade granola—you can get all of them here. Try the best-selling Uluwatu Bowl that includes dragon fruit, raspberries, and banana followed by a hint of apple juice. Prove it by yourself that the Nalu Bowls is a little taste of paradise.
Locations:
Jalan Drupadi 1 No 2A, Seminyak, Bali
Phone: +62-81236609776
Jl. Pantai Berawa No.52, Berawa, 80361 Indonesia
Phone: +62-8123781-7716
Jalan Batu Mejan No 88 (before Echo Beach on the right), Canggu, Bali
Phone: +62-81237899428
Jl. Labuansait No.63, Pecatu, Kuta Sel.Bali, 80361 Indonesia
Phone: +62-81237899428
Alchemy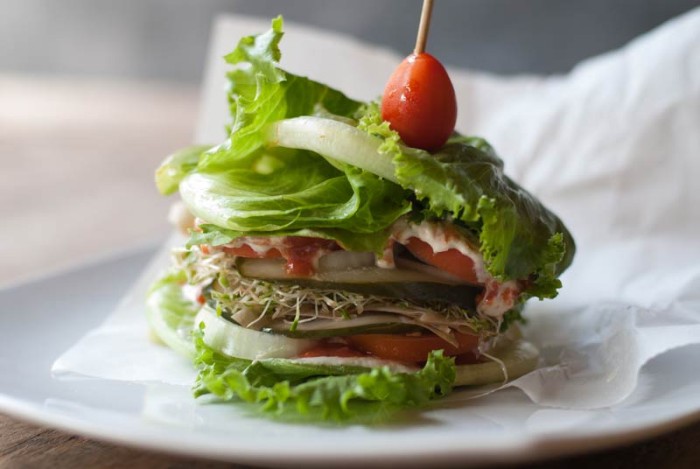 Alchemy is the island's first 100% raw vegan café and juice bar, organic health food store, and holistic clinic. For the food, Alchemy only serves organic and local raw vegan foods. Everything is prepared fresh in their kitchen and is free from refined sugar, flour, dairy, wheat and chemical additives.
Locations:
Jalan Penestanan Klod, Ubud, Bali
Phone: +62-361971981
Café Organic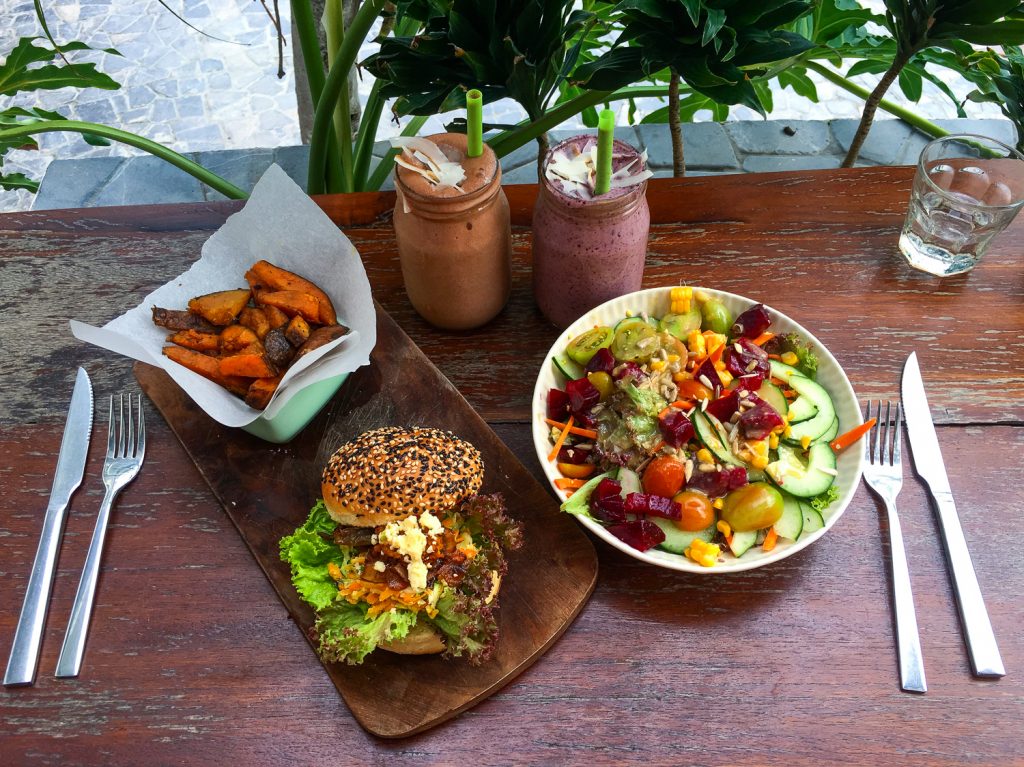 You could come here for the amazing smoothie bowls alone, or enjoy one of the delicious savory dishes on the menu and then have a smoothie bowl for dessert. All the menus are 100% vegetarian, with some vegan, gluten free and raw options. Café Organic is one of the most favorite breakfast joint in Bali for health-conscious foodies.
Locations:
Jalan Petitenget No 99X Seminyak, Bali
Phone: +62-82146489669
Clear Café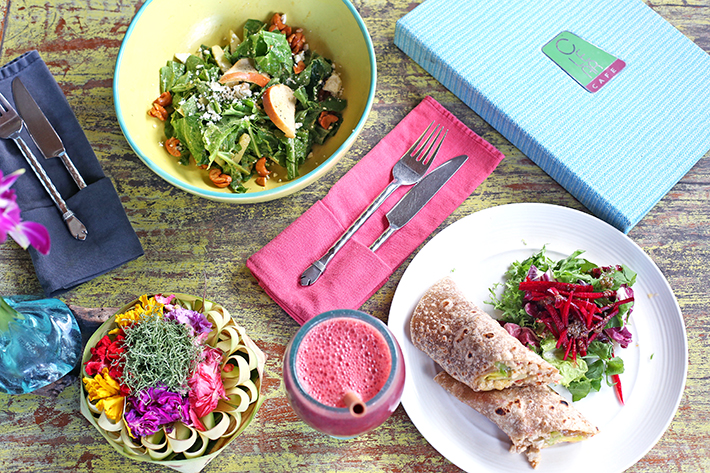 The menu at Clear Café is one of the most extensive in Ubud. A range of smoothies, juices, and a variety of raw options for all three meals of day plus dessert make this a raw foodie's paradise (and there are plenty of great cooked options as well). This place is also quite known for its music, so you can sit, hang out as long as you like, and enjoy the music (and the food of course) as long as you like.
Locations:
Jalan Hanoman No 8 Ubud, Bali
Phone: +62-87862197585
Tetsuo by Nook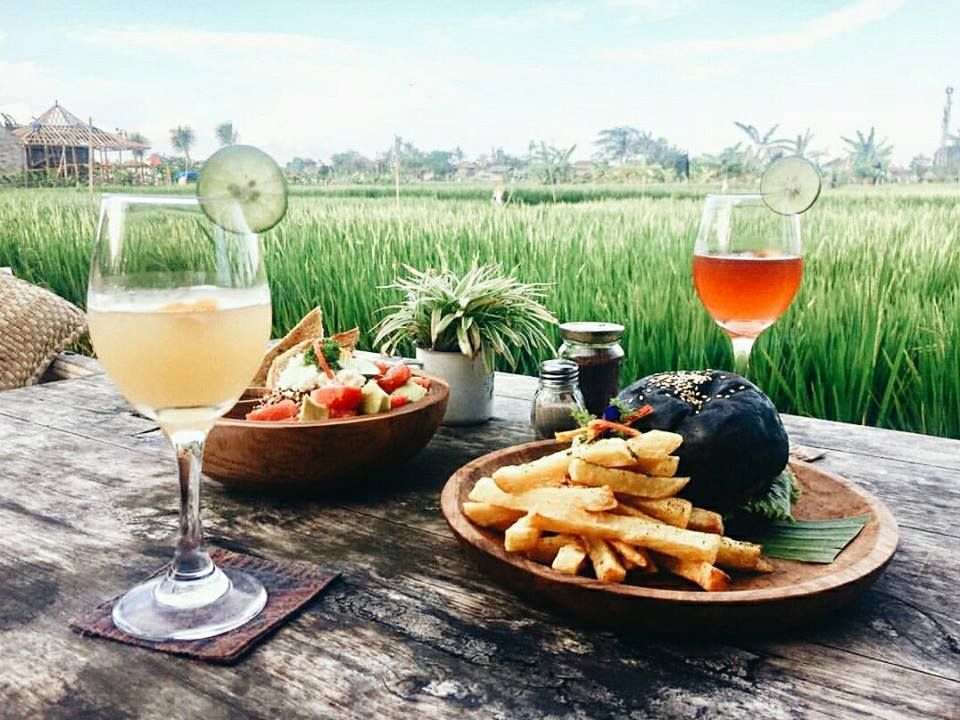 Tetsuo is another addition to the Nook family, one which serves Japanese food for vegans, vegetarians and pescatarians (fish only, no meat). Specialty food that they serve include sushi, onigirazu sushi sandwiches, katsu burgers and poke bowls. Visitors will be able to go shopping at the café's boutique and buy some homeware or boutique clothing pieces when while waiting for their food.
Locations:
Jl. Umalas I, Kerobokan Kelod, Kuta Utara, Kabupaten Badung, Bali 80361, Indonesia
Phone: +62-81236666060
Secret Spot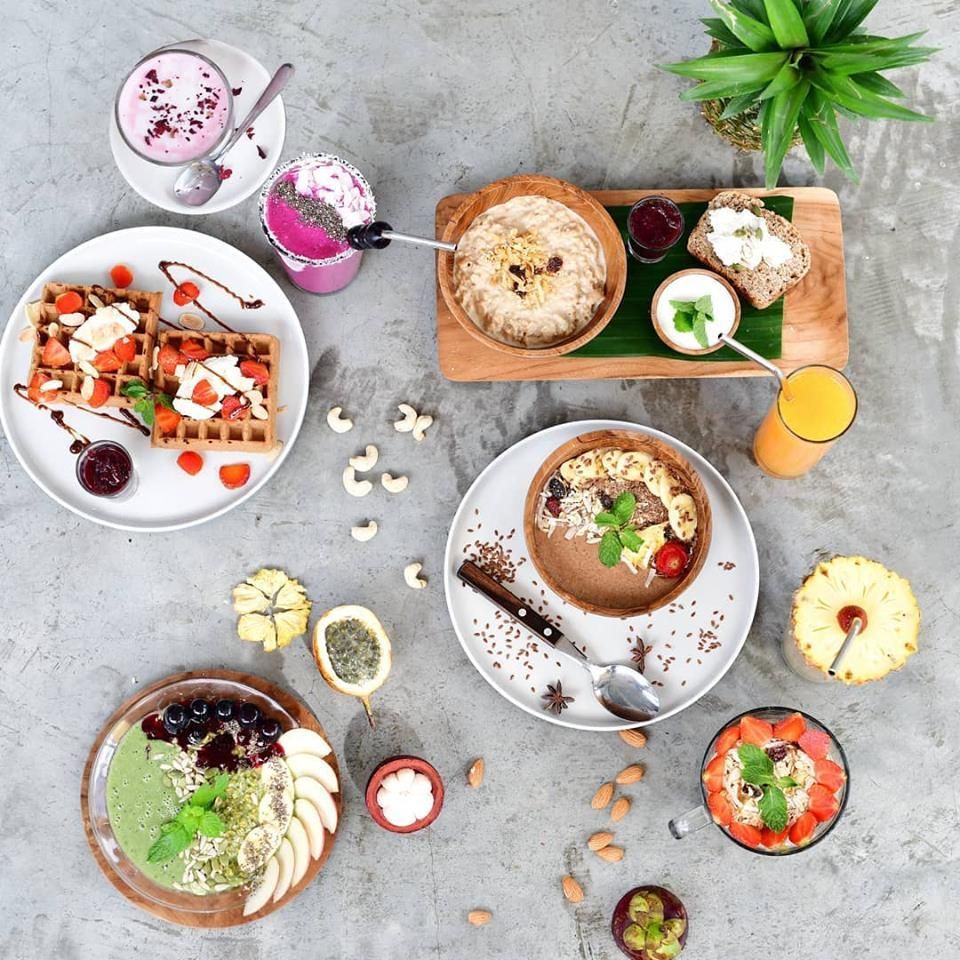 For a healthy dessert option, you can choose to visit the Secret Shop, a froyo shop famous for their wide selection of healthy organic topping like spirulina granola. They are also famous for their smoothie bowls. Currently, they have also extended their menus to include other desserts such as chia-buckwheat waffles, pumpkin soup, and village pie.
Location:
Jl. Raya Uluwatu no. 68 (in front of Nirmala Ungasan)
Phone: +62-85288870777
Jl. Berawa no. 44
Phone: +62-81337915791
Merah Putih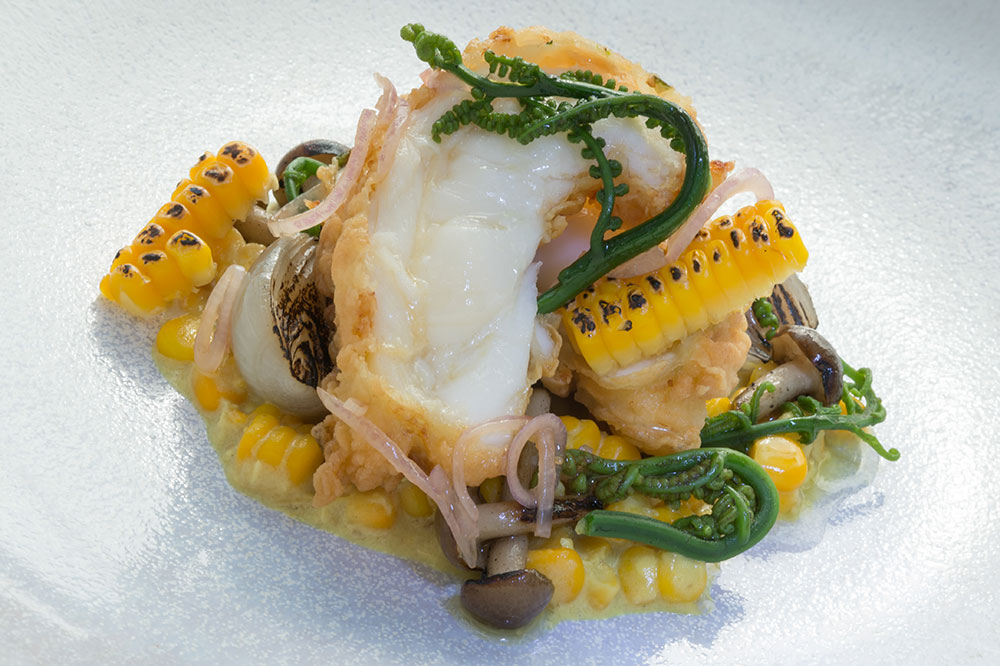 Vegetarians who are in Bali should try eating at Merah Putih, a restaurant that serves Indonesian traditional food for vegetarians to enjoy. Non-vegetarians can also enjoy other dishes, in which it serves traditional dishes and modern, fusion dishes. One unique aspect about this restaurant, is that Merah Putih aims to reduce the environmental footprint it produces.
Location:
Jl. Petitenget No. 100x, Kerobokan, Bali
Phone: +62-3618465950
Mai3-cafegan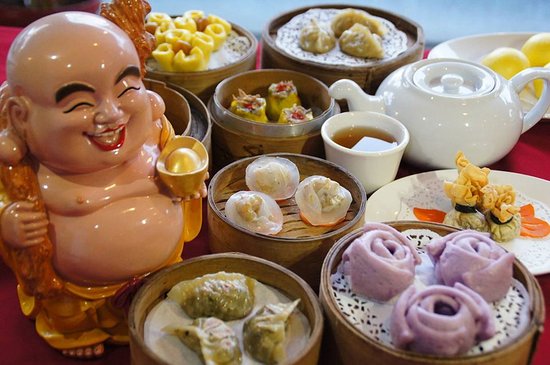 Those who have an affinity for Chinese food can try eating at Mai3-cafegan, a restaurant that serves vegan Chinese dishes. This restaurant serves pure vegan food without gluten and preservatives, as their motto is "eating without killing". Its best-selling dish is Mie Mai, a homemade noodles dish with three colors made from pumpkin, spinach, and yam. Additionally, it's served with mushroom satay and chilli.
Location:
Jl. Diponegoro No. 8C Pesanggaran, Denpasar
Phone: +62 361 729096
The Shady Shack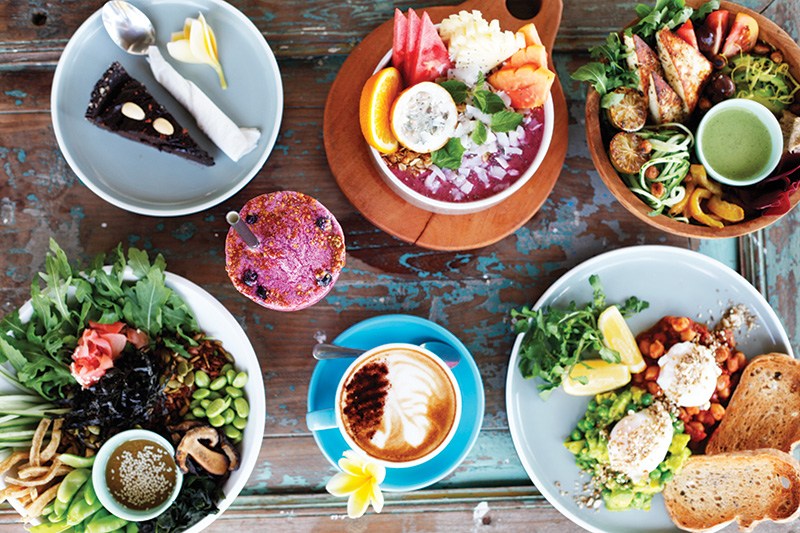 This restaurant is known for its unique twist on vegan, gluten and dairy free menus. They are known for many dishes include its nori bowl, its avocado toast and raw treats. The restaurant also has a beautiful scenery, as it's set inside a beach house where guests can sit on rustic seats under trees.
Location:
Jl. Tanah Barak no. 57, Canggu
+62-81236116466
If you have been to any of these places, do share your experience with us…