Navratri festival is celebrated in various parts of India. The first mention of navratri comes from the Markandeya Purana, where it's mentioned how the nine forms of the Goddess Durga are to be worshipped during this period. It's a time to pray, fast and feast. The nine days of Navratri, leading up to Dussehra and culminating on Diwali, is a special time for lot of people around the country. The sole purpose of the ritual fasts associated with these festivals is to purify, cleanse or detoxify the body.
Some do's and don'ts
Here are some tips to stay healthy while fasting.
High on liquids: Stick to drinking a lot of water, coconut water, chaas, fruit milkshakes if you're aiming to lose weight in a healthy manner. These will keep you satiated for a long time.
Do not starve yourself: Starving yourself means crash dieting, which is not the best thing to do. A healthy way will be to keep eating nuts and fruits every two hours.
No fried foods: Fried foods can often get to the best of us. There is no point in fasting if you end up hogging on fried foods to fill your tummy. Stick pan tossed snacks with minimal or no oil. Do not overload your plate with ghee. One tablespoon of ghee is considered to be healthy every day.
Stick to the basics: Do not go for packets of chips which say 'diet chips' or 'Navratri special'. Stick to home cooked food and have plenty of water to detox the Indian way!
Eat fruits such as apple, banana, oranges, pineapple, berries etc which have more nutrition values.
Avoid juices and prefer whole fruits as juices are less with nutrients, especially fiber.
In addition to water, drink green tea, coconut water for energy: The antioxidants in green tea supply energy by burning the fat cells.
Super foods
These ingredients of navratri foods are extremely nutritious. The cereals are basically rich sources of healthy carbs, proteins, fiber, minerals and vitamins and are all gluten-free too. The vegetables allowed are super foods loaded with antioxidants, vitamins and minerals. The whole structure of the Navratri vrat, or fasts, supports the idea of maintaining or achieving a healthy lifestyle, if followed in proper manner. There is lot of emphasis on fruits and liquid intake, also on frequent small-meal intake. Of course, one should not end up having just potatoes, sago (sabudana) fritters, and deep-fried stuff, like pakoras and vadas, rather eat more roasted makhana, fruits, coconut water, buttermilk, healthy fruit smoothies, dry fruits etc. Keep the cooking oil to the minimum and avoid adding to much of sugar to your milk shakes and tea.
What you can eat or avoid is generally based on the devotees individual beliefs. In general, sattvik foods are allowed such as
Fruits: There is no restriction over fruits; you can have all your favorite fruits. All dry fruits are also allowed.
Spices: As far as spices are concerned, you can use senda namak or rock salt, black pepper powder, green cardamom, cloves, cinnamon, ajwain, black peppercorns, dry pomegranate seeds, kokum, tamarind and nutmeg. Some people also use fresh coriander leaves, red chili powder, dry mango powder.
Vegetables: Only satvik vegetables should be consumed during this period. Most root vegetables like potatoes, sweet potato, suran or yam, arbi, kachalu etc,  Other vegetables such as bottle gourd or lauki, lemons, raw banana, raw papaya, pumpkin, spinach, cucumber and carrots are often considered as vrat favorites.
Milk Products: There is no bar on milk or dairy products. You can have milk, curd, paneer, desi ghee, malai and preparations made with milk and khoya.
Flours: You can use like kuttu ka atta (buckwheat flour), singhare ka atta (water chestnut flour) and Rajgira atta to make your chapattis. Even almond meal, coconut flour, sabudana flour, samvat ke chwaal (barnyard millet) flour can be used
Grains: Samvat ke chwaal (barnyard millet) and Sabudana can be used to make pilaf, khichdi and kheer.
Others: Coconut and coconut milk, sugar, honey, jaggery, Ghee, peanut oil, sesame seeds and tea
What foods to avoid during Navratri Fast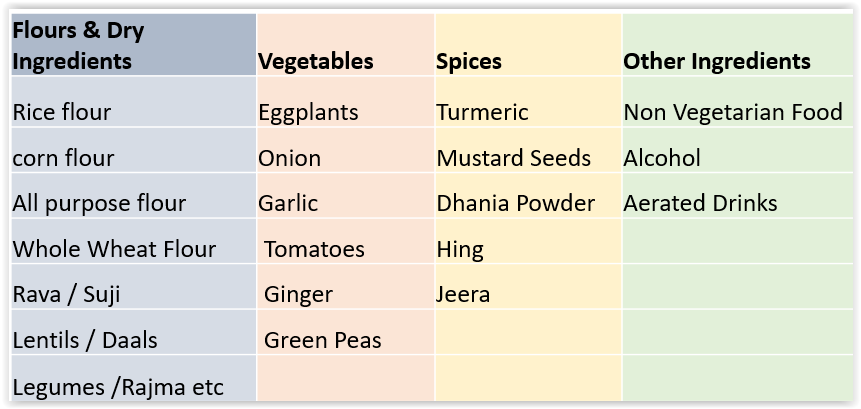 Recipe Suggestions
Fresh cut fruit
Salads
Kheer
Halwa
4 styles of Kadhi.
Beetroot Salad by Aparna Narang