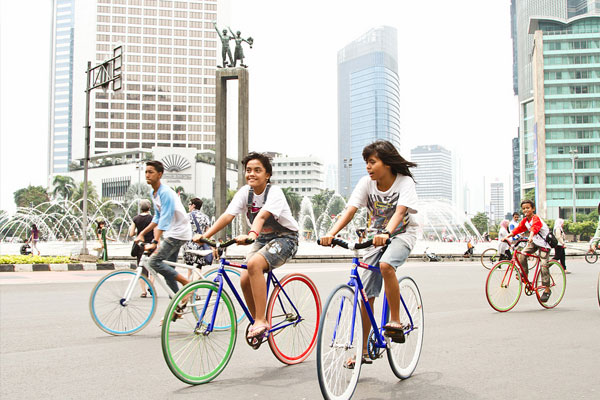 For many expatriates the Jakarta lifestyle is a much more sedentary one than what they are accustomed to in their home countries. We rarely go for a walk, we don't do housework and in addition there is the temptation to overeat due to activities such as coffee mornings, lunches and dinners. For working expats there are frequent business lunches plus the stresses of long hours in the office and the traffic that we have to deal with every day.
Many people choose to work out at a fitness center to achieve and maintain physical fitness and as a way of releasing stress. A good workout can not only keep your body in good shape but also promote physical and mental well being. Fortunately Jakarta provides many options for keeping fit and gyms or fitness centers can be found in many locations throughout the city. If you live in an apartment you may have a fitness center in the building. Other fitness centers are located in office buildings and malls, so it is very convenient for you to exercise before or after work. Click here to see the list of recommended fitness centers in Jakarta.
Some prefer to sweat it out by doing martial arts like Muaythai, karate, taekwondo, and many more. Joining martial art classes does not only help in shedding some weight; it also helps to master self-defense practices. Usually gym/fitness centers in Jakarta also provide martial arts sessions for the members, but if you want to get more intense training, you may want to see this list of martial art schools in Jakarta.
Another alternative to get moving is by dancing. Dancing is more than just actively moving your body; it also has ability to improve the way your brain functions. This activity can reduce the risk of dementia, slow down aging process, make you more intelligent, and prevent dizziness. There are many kinds of dance you can choose to burn some calories and stay away from stress, such as Hip Hop, salsa, jazz, or even ballet. Click here to see where you can learn dance in town.
When it comes to exercise, some people prefer exercises or sports that are hassle-free and low impact. And golf is one of them. Jakarta and its surrounding areas have many golf courses where you can practice your swing. Check them out here.
Other types of exercises you can do in Jakarta are:
There are also many expat sports club to join in Jakarta. In these clubs you will meet new friends with various backgrounds, while participating in your sport hobby. If you haven't joined any sports group yet, or have no idea about which group you should join, here are the list of sports groups for expats in Jakarta.
Of course regular exercise is not enough to keep you fit in this metropolitan city. You also need to maintain your health from the foods and drinks you consume. Don't worry, the health-conscious Jakartans really understand the need of healthy food, thus there are many healthy food restaurants and delivery services available in the city. Check out these healthy catering services, online health food stores, must try health food outlets, and organic vegetables & food products delivery services in Jakarta.