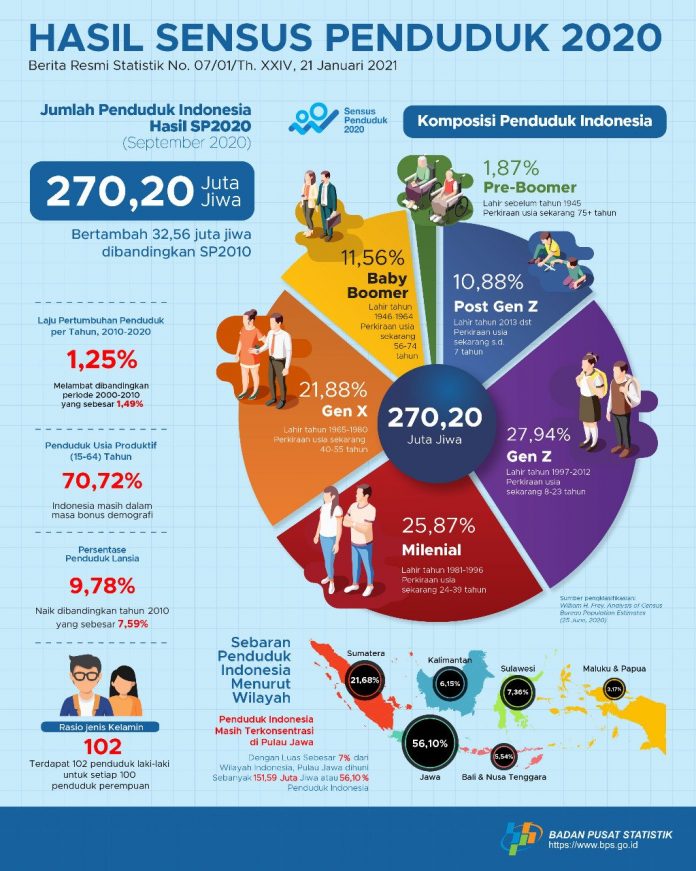 MOTTO: Unity in Diversity
ANTHEM: Indonesia Raya
CAPITAL CITY: Jakarta
OFFICIAL LANGUAGE: Bahasa Indonesia
MAJOR LANGUAGES: Bahasa Indonesia, English, Dutch, Javanese, and other local dialects
GOVERNMENT: Republic
LAND AREA: 1,919,440 sq. km.
LOCATION: Southeastern Asia, archipelago between the Indian Ocean and the Pacific Ocean
POPULATION: 270 million +
MAIN ETHNIC GROUPS: Javanese, Sundanese, Indonesian (Malay), Madura
MAIN RELIGIONS: Islam (more than 80%), Christianity, Hinduism, Buddhism
CURRENCY: Rupiah
TIME ZONE: GMT+7-9
COUNTRY CODE: +62
Culture and Religions of Indonesia
Indonesia, the world's fourth most populous nation, is 86 percent Muslim—and the largest Islamic country, though it is a secular state. Indonesians are separated by seas and clustered on islands. The largest cluster is on Java, with some 130 million inhabitants (60 percent of the country's population) on an island the size of New York State. Sumatra, much larger than Java, has less than a third of its people. Ethnically the country is highly diverse, with over 580 languages and dialects—but only 13 have more than one million speakers.
The present day culture of Indonesia is an outcome of the interplay of old-age- traditions from the time of early migrants and the Western thought brought by Portuguese traders and Dutch colonists. The basic principles, which guide life include the concepts of mutual assistance or "gotong royong" and consultations or "musyawarah" to arrive at a consensus or "mufakat". Derived from rural life, this system is still very much in use in community life throughout the country. Though the legal system is based on the Old Dutch penal code, social life as well as the rites of passage is founded on customary or "adat" law, which differs from area to area. "Adat" law has been instrumental in maintaining gender equality in Indonesia. Indonesian art forms are greatly influenced by religion. The famous dance dramas of Java and Bali are derived from Hindu mythology and often feature fragments from the Hindu epics such as Ramayana and Mahabharata.
The crafts of Indonesia vary in both medium and art form. As a whole the people are artistic by nature and express themselves on canvas, wood, metals, clay and stone. The batik process of waxing and dyeing originated in Java centuries ago and classic designs have been modified with modern trends in both pattern and technology. There are several centers of Batik in Java, the major ones being Yogyakarta, Surakarta, Pekalongan, and Cirebon.
Indonesia is rich in handicrafts. Various forms of handicrafts practiced are: woodcarvings for ornamentation and furniture, silverwork and engraving from Yogyakarta and Sumatra; filigree from South Sulawesi and Bali with different styles of clay, sandstone and wood sculptures. These are but a few of the handicrafts found in Indonesia.
Currency
The local currency of Indonesia is Rupiah (Rp) and 1Rp = 100 sen. Bills come in denominations of Rp 500, 1000, 2000, 5000, 10.000, 20.000, 50.000, and 100.000. Coins come in denominations of Rp 500 & 1000.
Foreign currencies, either banknotes or travelers cheques, are easily exchanged at banks and money changers in major tourist destinations. Credit cards are accepted at most hotels and restaurants in main cities. It is advisable to carry sufficient amounts of Rupiah when traveling to smaller towns or outer provinces.
Indonesia maintains a liberal foreign exchange system and has few restrictions on transfers abroad, and in general freely allows conversions to and from foreign currencies. The Rupiah-Indonesian Currency-is linked to a basket of currencies of Indonesia's major trading partners. The unitary exchange rate allows for fluctuation.
Geography of Indonesia
Indonesia is the largest archipelago in the world. It consists of five major islands and about 30 smaller groups. There are total number of 17,508 islands of which about 6000 are inhabited. Straddling equator, the archipelago is on a crossroads between two oceans, the Pacific and the Indian Ocean, and bridges two continents, Asia and Australia. Indonesia has many high mountains, the highest of which are over 4000 meters. Many of them are active volcanoes. There are tropical rainforests and jungles, as well as swampy mangrove areas. Indonesia's most fertile land is on the island of Java.
Indonesia is a vast equatorial archipelago of 17,000 islands extending 5,150 kilometers (3,200 miles) east to west, between the Indian and Pacific Oceans in Southeast Asia. The largest islands are Sumatra, Java, Kalimantan (Indonesian Borneo), Sulawesi, and the Indonesian part of New Guinea (known as Papua or Irian Jaya). Islands are mountainous with dense rain forests, and some have active volcanoes. Most of the smaller islands belong to larger groups, like the Moluccas (Spice Islands).
The territory of the Republic of Indonesia stretches from 6°08′ N latitude to 11°15′ S latitude, and from 94°45′ E to 141°05′ E longitude. Total Area of Indonesia is 1,919,440 sq km (Land Area: 1,826,440 sq km; Water Area: 93,000 sq km). The five main islands are: Sumatra (473,606 sq. km); the most fertile and densely populated islands, Java/Madura (132,107 sq. km); Kalimantan, which comprises two-thirds of the island of Borneo (539,460 sq km); Sulawesi (189,216 sq km); and Irian Jaya (421,981 sq km), which is part of the world's second largest island, New Guinea. Indonesia's other islands are smaller in size.
The country is predominantly mountainous with some 400 volcanoes, of which 100 are active.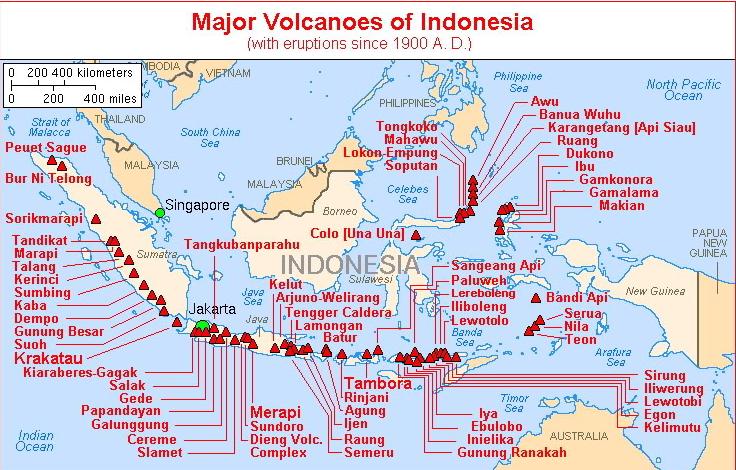 Indonesia's Time Zones
There are three Standard Time Zones in Indonesia:
Sumatra, Java and West & Central Kalimantan are 7 hours ahead of Greenwich Mean Time (GMT+7)
Bali, Nusa Tenggara, South & East Kalimantan and Sulawesi are 8 hours ahead of Greenwich Mean Time (GMT+8)
Irian Jaya and Maluku are 9 hours ahead of Greenwich Mean Time (GMT+9)
Economy
Economy of Indonesia is mainly based on agriculture and oil. Approximately 90% of the population is engaged in agriculture. In the agricultural sector, Indonesia has become self sufficient in rice and does not need to import this staple food as it had for years.
Earlier, oil and gas used to be a major foreign exchange earner but rising domestic consumption and stagnant oil production has now made Indonesia, a net importer of oil. Industry: petroleum and natural gas; textiles, apparel, and footwear; mining, cement, chemical fertilizers. Agriculture: rice, cassava (tapioca), peanuts, rubber; poultry. Exports: oil and gas, electrical appliances, plywood, textiles, rubber.
Tourism is steadily gaining ground and is emerging as major foreign exchange earner for the country. Indonesia is rich in natural resources. forestry products, rubber, coffee, tea, tin, nickel, copper, palm products & fish make important contributions to export earnings. In recent years a number of steps have been taken to promote and stimulate non-oil exports, which include handicrafts, textiles, precious metals, tea, tobacco, cement, fertilizers as well as manufactured goods.
Export earnings from oil and natural gas help the economy, and Indonesia is a member of the Organization of Petroleum Exporting Countries (OPEC). Tourists come to see the rich diversity of plants and wildlife—some, like the giant Komodo dragon and the Javan rhinoceros, exist nowhere else. With the objective of a more equitable distribution of development gains, the government gives high priority to expansion in the less developed regions of the country and the creation of employment opportunities for the country's growing labor force. To attract foreign capital, certain incentives are provided and several sectors are open to foreign investment.